September 15, 2021
How to Create FANtastic Sales Videos – Sept Builder Town Hall Recap, Part I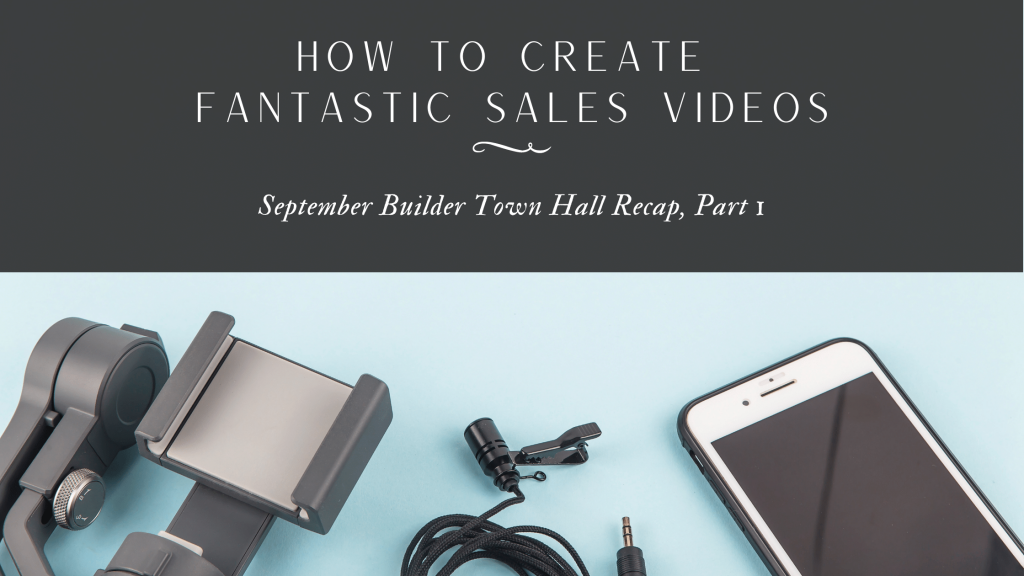 We've just wrapped up our September Builder Town Hall, and it was a blast!  We welcomed special guest Dave Cooper to share some tips on video creation and live streaming to help all of you up your digital home marketing and selling game.
After spending 10 years in the military (thank you for your service!), Dave applied his military discipline and work ethic to create a successful home building business in the Northeast. Now, with over 20 years of building experience and 1600 residential and commercial projects under his belt, he has switched his focus to creating editorial video content for builders – specifically those active in the built environment.
Making FANtastic Sales Videos
We invited Dave to our builder town hall because he is an industry expert AND a huge proponent of creating and publishing video consistently – both live stream and pre-recorded segments – as a way to build your community, market your product and sell homes.
Consider this, YouTube is the second largest search engine after Google, with over 2 billion monthly users. That means one in three people are visiting YouTube regularly.  Then consider that our biggest percentage of homebuyers today are millennials, many of whom regularly binge-watch shows and visit YouTube for various reasons. And yet only 9% of small businesses (builders and building consultants) are leveraging the power of YouTube, or video in general, to sell and promote their products.
Dave also shared the key statistic that 70% of viewers bought from a brand after watching their videos. This is powerful and why he feels strongly about helping the building community leverage video for marketing and sales purposes.  They are a great way to build rapport and familiarity, and trust with prospective buyers, all the while building your brand.
Video creation is also easy. With today's smartphones and a discrete lapel microphone for clear audio, you have everything you need to produce engaging quality live streams or recorded videos for posting on Facebook, Instagram, YouTube, and/or your company website. There is really no excuse for not incorporating this dynamic tool in your sales and marketing arsenal.
But what should I film?
There are so many relevant, accessible ideas related to building and community that can be documented easily and effectively on your phone. We've shared some of Dave's suggestions below:
Top 5 Video Content Ideas
New phase available – Create a short video clip letting prospective buyers know new building sites are now available for sale.
Model home completion – Once a model home is open for viewing, create a quick video tour of the home and encourage prospective buyers to visit in person.
Testimonials – Reach out to home buyers in your community and have them tell a story about their buyer's journey, their home, or the community in general. These are highly effective and appealing. It's as simple as walking up to someone doing yard work or playing in the driveway and asking them if they love their community. If they are willing, take some video of them showcasing favorite parts of their new home – the custom lighting, kitchen appliances, flooring, etc. The best marketing tool is word of mouth, and documenting a happy customer on video for wider distribution on social platforms is a winning concept. Dave also suggests interviewing builders, tradespeople, and suppliers; these types of testimonials are powerful and go the extra mile in building trust. When a prospective buyer hears a builder, drywaller, roofer, or electrician attesting to the quality of the build, they will feel reassured and confident – more likely to buy a home in your community.
Employee profiles – Feature members of your team. Interview home advisors, designers, and even executives. Give buyers a peek into the people that make up your company. This is a great way to connect with your buying audience giving them access to a broad cross-section of the people on your team. It doesn't matter if they are covered in tattoos; they have a story to tell about working for your company. Their love of their work environment and company culture will be naturally revealed. Consider stitching a few together in a "sizzle" reel and then share!  This helps build your brand and can serve as a recruitment tool, too.
Building Process – Use video to share the building process, including issues and resolution, progress, community information, interviews with tradespeople, etc. Offering 'behind the scenes footage in a friendly, sociable way is a great way to build trust with buyers, increasing their likelihood of buying in your community. "Shouting Out" people and products is also a very effective way of building goodwill.
Reuse and rework existing content – You can always use existing sales and marketing material for video content inspiration. Take a subject already covered on your website and film a short clip that reiterates and reinforces the topic. For example, you may have written a blog highlighting community parks and recreational facilities. Now you could film a segment in an actual park featuring some of the same content. Pictures paint a thousand words, AND many people would rather watch something than read it, so you will reach those who may have missed your original blog post by creating this video.
>>STAY TUNED FOR PART II of this post, where we share the pro's and con's for livestreaming versus pre-recorded videos as well as simple tips to get started with video. 
We thank Dave Cooper for participating in the September Town Hall. Please subscribe to his YouTube channel and follow him on LinkedIn. We hope the tips he shared were helpful, and you are now inspired to create some innovative, engaging videos to market your homes and communities. If you missed the Town Hall, you can watch the recap here.

—

Mark your calendar and register today for our next Town Hall in October – topic and featured guest info coming soon! Keep the conversation going all month long in our Builder Town Hall Facebook Group, open to anyone in the homebuilding industry.

Tags: Home Builder Marketing, Social Media, Technology, Video Marketing, YouTube


Categorised in: Builder Town Hall, Content Marketing, Digital Marketing, Home Builder Marketing & Sales, Video Marketing