May 16, 2022
Meredith's Metrics: Home Builder Website Traffic Cooling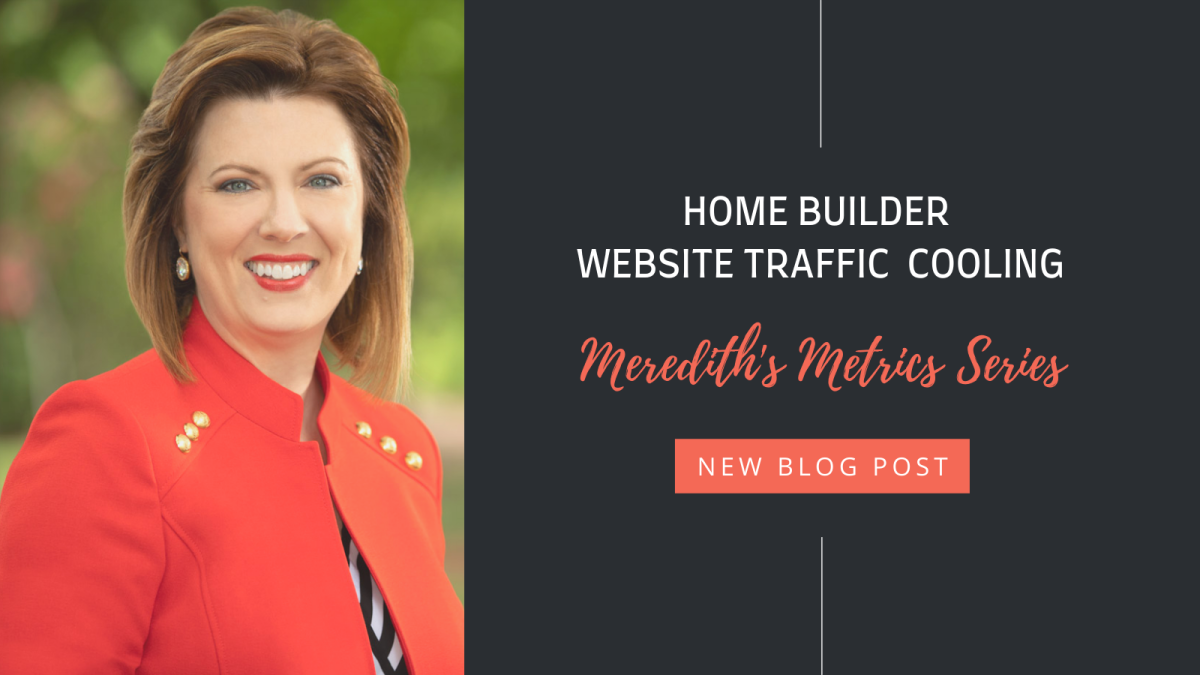 For this month's installation of Meredith's Metrics, we took a look at home builder website data and digital marketing analytics across the country. At Meredith Communications, we actively engage with approximately 70 – 75 home builder websites per month.
Upon analyzing the current data, we recognized a few patterns that made our ears perk up like Meredith's sweet little puppies when they sense something that isn't quite right. Today, we will break down these trends and what you can do to combat their effects. 
Let's Talk Numbers
Overall, April's website numbers were trending down. Compared to March, total website visits from new users were down between 10% – 20%. Year over year, these numbers are trending 20% – 30% lower than 2021. 
These numbers may appear alarming, but as discussed in last month's installation, they are explained by inflation, increased cost of living, or the stress of world events. If we take the time to dissect and understand why these trends are occurring, we can prepare and combat their potential effects. 
Though this trend could cause alarm, it didn't raise red flags quite in the way that the shift in Goal Conversions did for this past month. According to our metrics, Goal Conversions were down 20% – 30%.
While the actual conversions are typically highly motivated, qualified, and of excellent quality, this decline most certainly raised concern. 
Diving Deeper
If you are experiencing declines in website Goal Conversions, as is common in the current market, it's essential to look at your availability. 
Lack of availability could be the reason for this decrease. Builders who are nearly sold out, have limited active communities, or have little to no inventory are likely to see lower conversions simply because there isn't as much content for users to interact with. 
However, if you have new communities and available inventory homes, you might have another problem. A decline in conversions is explained by decreased consumer confidence due to the changing interest rates, supply-chain delays, and increased home prices.  
So, What's the Plan?
Though the current numbers are lower than we've grown accustomed to, most builders will likely be able to coast through the spring. But come summer, it will be an entirely different story. Typically, summer sales take a hit, but this year—with an anticipated increase in travel due to lifted COVID-19 restrictions—we expect an even greater lull in the market. 

At the tail end of the summer, as the national election cycle approaches, we anticipate this dip in the market to continue. In addition, with the holidays close at hand, we don't expect an increase in demand until at least December 27. 

With this knowledge, builders must construct a solid plan to compensate for this significant drop in conversions. Increasing digital marketing, focusing on content development, and developing strong holiday campaigns will all help to counteract the anticipated lull. 

These metrics, though alarming, are also the key to understanding how we can best forge ahead in the complexities of today's market. Taking the time to break down and understand the cause and effect of this data will help you fortify your company. 

We look forward to seeing you at our next Builder Town Hall! So please mark your calendar and register today for our session on June 3. In the meantime, be sure to join our Builder Town Hall Facebook Group and keep the conversation going! 

Tags: Builder Town Hall, Google Analytics, Home Builder Marketing, Meredith's Metrics, Website Analytics


Categorised in: Analytics, Builder Town Hall, Digital Marketing, Home Builder Marketing & Sales, Home Builder Websites