April 13, 2022
Meredith's Metrics: Understanding Website Traffic Trends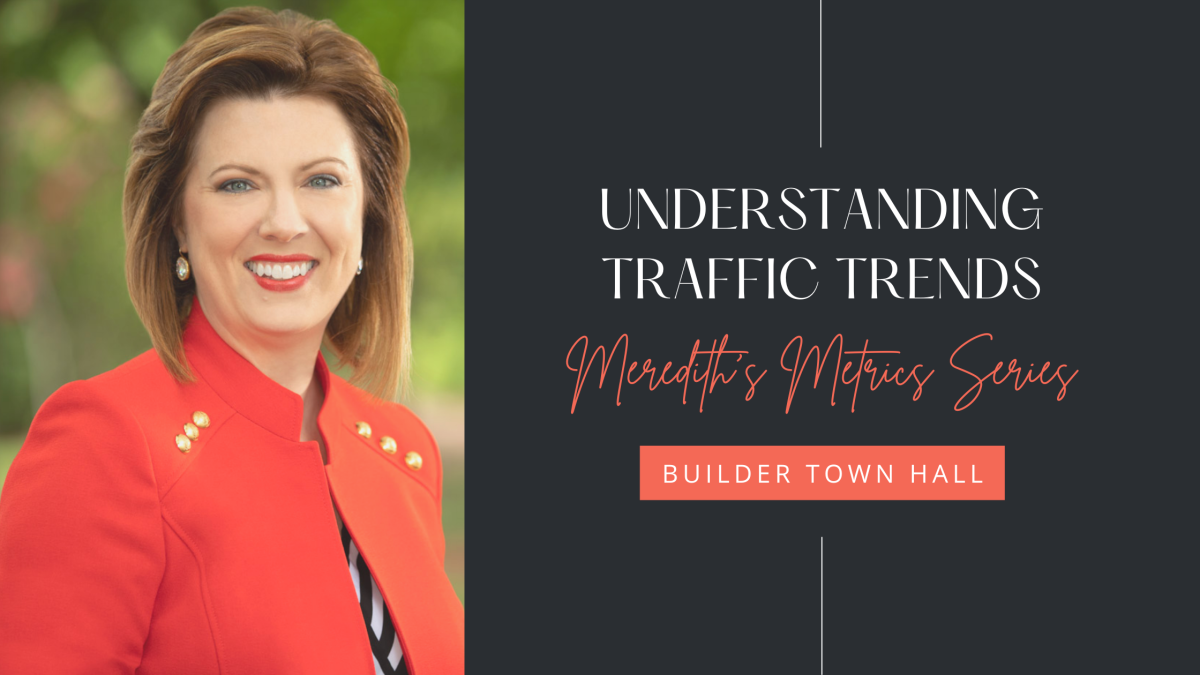 We are excited to introduce our newest Builder Town Hall segment: Meredith's Metrics! Join us as Meredith breaks down data trends into patterns that you can use to tackle the world of digital marketing. This week, we will take a look at website traffic and how these numbers can guide you toward creating the best experience for your customers. 
Let's Talk Numbers
After comparing metrics across 76 builders' websites, it quickly became obvious that this years' industry numbers were softer than the last. Website traffic from February of 2022 was down 15% from February of 2021. Similarly, March of 2022 presented 16% less traffic than March of 2021. 
It's easy to see these numbers and panic. They certainly could be explained by inflation, an increase in grocery and gas prices, the decrease in available inventory of homes for sale, or the stress of world events. However—instead of taking a backseat to this trend—it's important that we truly take the time to dissect the specificities of our numbers, so we can combat their impact. 
Down to the Nitty Gritty
Despite this decrease in traffic, conversion numbers are still holding strong. Prospective customers who are converting tend to be fairly driven in comparison to the past. They understand that if they don't buy now, they could be looking at a two or three-year window where they cannot get into a home because of pricing, inventory, or supply chain-related issues. 
In order to best understand how these buyers are interacting with your site, you have to break down your top converting goals. Once you understand this element, you can properly provide adequate support to manage the type of traffic your marketing is driving. 
Organic vs. Paid Digital
Different types of website traffic lead to different types of conversions. Customers who find themselves on your page through a Google search or a social media post typically interact with your site differently than those who were redirected through a paid digital ad. 
Those who find themselves on your site organically are most likely to complete a form as their top converting type. This is followed by phone calls, then digital email links, and finally live chats. 
In contrast, those who are driven to your site through paid digital ads are typically viewing these ads on mobile devices. Therefore, the hierarchy of conversion types shifts. When traffic is driven by paid digital ads, customers tend to use phone calls as the top conversion type. This is followed by digital email links, address map clicks, VIP forms, live chats, and finally "Contact Us" forms. 
So What Does This Mean?
Understanding the implications of conversion trends allows you to have productive conversations with your sales and marketing teams to best provide the highest quality customer experience. 

For example, if you are investing a lot of your time and resources into paid digital marketing, you can expect to have a high volume of phone calls. Acknowledging this connection allows you to ensure that your sales team is ready to manage these calls and effectively move these prospects further down the sales funnel. 

There is power in numbers. We must take the time to break them down so we can forecast, understand, and plan. Take the world of digital marketing by the reins and make Meredith's Metrics work for you!

We look forward to seeing you at our next Builder Town Hall!  Mark your calendar and register today for our session on May 6. We will discuss MarTech and dive deeper into the world of marketing technology to show you how to use it to take on innovative feats. 

In the meantime, be sure to join our Builder Town Hall Facebook Group and keep the conversation going! 

Tags: Google Analytics, Homebuilder Marketing, Meredith's Metrics, Website Traffic


Categorised in: Analytics, Builder Town Hall, Home Builder Websites