April 14, 2020
Doing Things Differently in Times of Crisis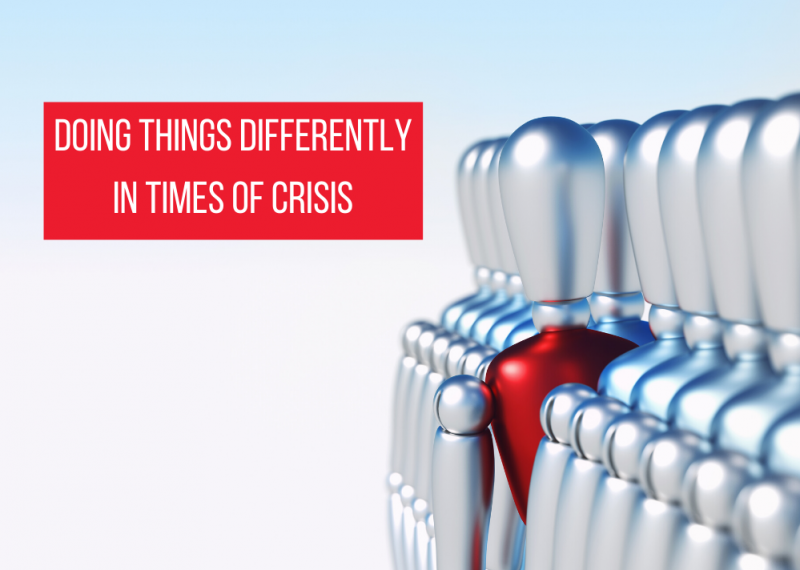 Are you a planner? Is the "not knowing" of how things will play out with your business causing you real strife? You're not alone! Times of crisis can be really scary for businesses—owners and employees alike. That's because the more uncertainty surrounding a situation, the more difficult it can be to make decisions that keep your organization or department afloat. And while it can be easier to give up, it's far more productive to be dynamic and adapt to the needs of your fans. In case you didn't know, some of today's biggest companies were born out of the last recession. Anyone heard of Amazon? Uber? So when you're looking to do things differently during times of crisis, consider the following:
Look at the Long Term
It's easy to focus on a crisis—and harder to look past it. Yet that's what you have to do in order to keep putting one foot in front of the other. Because eventually, things will settle into a new normal. And like it or not, everyone will remember how you responded to the current crisis. Treat employees with respect and do everything in your power to ensure they have what they deserve to stay afloat—you'll earn their loyalty. Focus on kindness and compassion toward customers. Listen to their needs and see if you can offer online services that match those. This kind of innovation will ensure they return to you again and again.
Ask, "Am I Being Helpful?"
Selling when the chips are down feels a bit gross—not to mention completely tone-deaf. So it goes without saying that trying to push your agenda on the world in order to keep your doors open will fall flat. Instead, offer your services in a way that is helpful—not salesy. Look at local restaurants as an example. Many of them are combining menus, signing up for delivery services, and offering curbside pick-up options. Their customers still want to eat their food—and giving them that option isn't pushing an agenda. It's giving an option. The same goes with home builders currently offering virtual tours. Is it nice to see the house in person? Yes. Does a customer have to physically feel the banister of your stairwell to fall in love with it? No.
Don't Cut Marketing
So many people slash their marketing budgets first. But resist the urge! It shouldn't come as a shock that marketing is still important during times of crisis, and actually, it may be more important now than ever. That's because customers are often changing their buying habits, so you need to help direct them to products and services that you offer that can fit their needs. Matter of fact you should ramp up your efforts in this area as much as possible.
Clean Up Your Inventory
A crisis is a good time to take a look at your inventory. What can you get rid of? Where are you overspending? Evaluate everything that you sell and provide and figure out where you can make cuts that will help your business overall. Because eventually, the crisis will pass. And as they say—the early bird gets the worm. If you've done your homework including all the steps listed above when that happens you'll be considered early bird status.

Innovation is a scary word. But sometimes it takes a big shake-up like this to get us out of our comfort zones and approach business differently. This is an opportunity! Open the door wide as she knocks. And if you need help seeing your current situation differently, consider reading through the Reframe blog series found on my other website, MeredithSpeaks.com. Cognitive Reframing means to create a different way of looking at a situation, problem, person, challenge, or whatever your roadblock is—and change its meaning which is something I believe will prove helpful to many in this challenging time.

content, coronavirus, COVID-19, Meredith Oliver, Small Business Marketing


Categorised in: Content Marketing, Crisis Marketing, Digital Marketing, Small Business Marketing, Working From Home