June 20, 2020
B.O.L.D. Series—L is For Love It or List It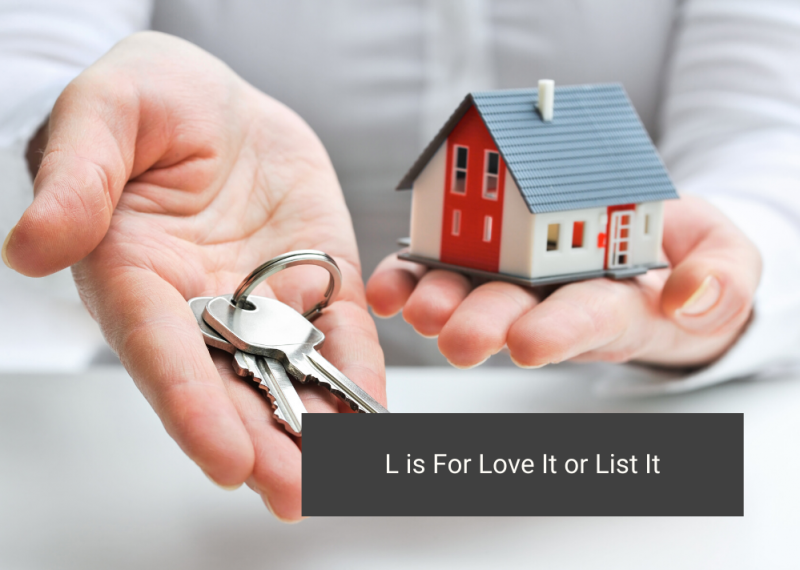 We're up to blog #4 in this series! Missed the first three? You can catch up using the links below:
Once you have caught up it's time to dive right into "L" in B.O.L.D. stands for—Love It or List It. Not the TV show! Although I do adore Hilary and David, how about you?
If Not Television, Then What?
Is selling something you love to do? It's a simple question and it has a simple answer: Yes or no. In times like these, it is mission imperative that you love what you do and what you sell. Because if you don't, you're in the wrong line of business. Finding people new homes isn't about the big commission—it's about the connections. It's about providing home buyers and home sellers with clarity. The question we are asking you is this: do you love selling new homes or do you need to list it?
Think Like a Newbie
When you've been in the game a while, it's easy to assume that people know you love what you do. So, you become stagnant. But what if I told you that conveying your love for what you do is never-ending? That when people cannot sense your passion, they move on to someone who shares theirs in spades?
Invite Customers In
Truth bomb: When you invite people into something that you are passionate about it's almost magnetic. They can't help but listen to you. And the result, I believe you'll find, is that your receiver becomes more confident. That is because when you're inviting someone into a piece of your world, it sends the message that you are confident about what you are doing. Which also means that you have clarity about it—and ultimately confidence.
Think about it like this: You're dating someone new. You're not sure how you feel about him/her. But then you take this person to meet a good friend. And that friend tells you how amazing the person you're dating is—they have everything you talk about wanting! Doesn't that make you a bit more confident in your choice? Bring a bit more clarity to your thinking?
Now think about this in terms of buying a home—especially in a time of uncertainty. Would you rather work with someone who is simply going through the motions with you and shows little interest in the fact that this may very well be the biggest purchase of your life? Or do you want to work with someone who is excited about the homes they are selling? Who knows everything about every floor plan? Who responds to your questions with enthusiasm? Who makes time to really hear your concerns and is educated in their response? Whose smile you can hear over the phone? And who isn't that passionate with only you—but with everyone. When you Google this person they have their love of selling plastered all over their blog, social media, and sales pages? I know who I'd rather go with!
People like feeling good about their decisions. They like feeling good about who they're doing business with. So, the best thing you can do to grow your sales right now is ask yourself if you love what you're doing. Do you love selling homes?
Get Honest With Yourself
Naturally, I don't expect that everyone reading this blog is crazily passionate about what they're doing. However, I want you to take a moment and examine the truth at the root of this realization. Are you not crazy about selling? Maybe it's the company you are selling for—or even the team you're selling with. There are many factors that can go into not liking a role that stem beyond the job itself. It's your duty—especially in the tough times—to make sure you're doing the right thing both for yourself and for your company and clients. Because passion is what will keep you afloat—through difficult times in the market as well as through difficult clients. Remember that—no matter what you're doing!
Take some time to really focus in on your target audience. Are you happy selling to them? Are you happy selling the type of home they want at the price point they are looking for in the area they wish to live? If not, then you're probably not passionate about what you're doing in some form or another. Which means you're going to sell a whole lot less than your competitors—if at all.
It Starts with You
It may be fluffy to say, but it's true. Success begins with you and your passion. There will always be a number of outside factors that try to cut through your message. But when you truly love what you are doing, those things don't matter—and you have the power to make those things less of a concern for your customers. Because it's only when you aren't feeling something that you begin to plant the seeds of doubt in others.

Keep in mind that these feelings are different from anxiety. It's perfectly okay to love what you do—and feel anxious about it at the same time! It's a normal human reaction. Of course, you want your customer to love your floor plans! Of course, you hope they adore your model! And yes, it'd be wonderful if you could close the sale! Don't mistake your anxiety for a lack of passion. A lack of passion requires you to change course. Anxiety requires you to fake it until you make it!

If you are feeling burned out or overwhelmed with your job, it's time to get brutally honest with yourself and determine if you still love it (and just need to get some rest or adjust your attitude) or it's time to list your new home sales career and move on to something new.

Stay tuned for the next blog in this series where we will discuss "D" in BOLD and wrap everything up! See you soon.

Tags: BOLD, certified virtual speaker, Homebuilder Marketing, Love It Or List It, Meredith Oliver, New Home Sales, Sales, Small Business Marketing, virtual keynote speaker, virtual sales seminar, virtual speaker


Categorised in: FANtastic Marketing Tips, FANtastic Selling, FANtastic Selling Tips, Home Builder Marketing & Sales, Meredith Speaking Videos, Personal Development, Self Care, Virtual Sales