June 15, 2020
B.O.L.D. Series—O is For Overcoming Obstacles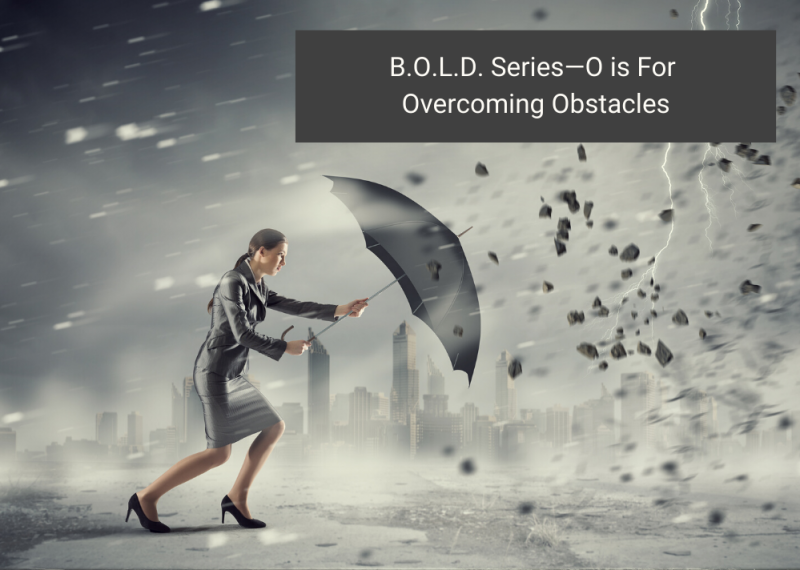 Hello and thank you for joining us for blog #3 in this series! Missed the first two? Get all caught up:
Now that you know what the series is about it's time to talk about what the "O" in B.O.L.D. stands for—Overcoming Obstacles.
How Is This Different Than Breaking Barriers?
You're probably thinking that Overcoming Obstacles sounds similar to our blog from last week. And they are similar topics. But when I say, "overcoming obstacles" I'm referring to homebuyer obstacles rather than your internal processes and sales operation barriers. In other words, what are the objections or concerns that you're facing when you speak with homebuyers in today's economy—and how do you help them get past those?
The Looming Obstacles
Raise your hand if you've heard something like the following from a potential buyer or seller in recent weeks:
I'm not sure when I'll be back to work
I don't know if I'll have a job to go back to
If I wait, my current home may sell for more
The stock market is down
Prices might drop if I wait a few more weeks
There is going to be a flood of homes for sale with the low-interest rates, I should wait
If you haven't heard one of these phrases and you're in home sales, contact me—I must know more about your market! For the rest of you, you're probably wishing I could send you a magic pill that you can give customers that lifts all their COVID-19 worries away. And wouldn't that be nice?! But that doesn't exist. So instead, I'm going to talk to you about how to overcome these obstacles.
See the Human Behind the Obstacle
The reason a magic pill or a magical script doesn't exist for overcoming obstacles is that every person you interact with is different. Therefore, you must willingly interact differently with them to help them overcome what we as sellers understand is present behind all of those statements listed above: FEAR! As a salesperson, when you hear fear, your first inclination is to fix it. But fixing the problem and helping them overcome fear is not the same thing. Have you ever been knowingly irrationally afraid of something and no amount of positive facts or data resolved your fear?  So, I'm asking you to not jump in immediately and address these fears with research and statistics you've read or heard—and instead approach the fear with empathy ultimately leading to curiosity.
According to an article in the Harvard Business Review, "There is a way in which this pandemic may be calling us to slow down and listen. What if we resist the urge to act — to just do something — and, instead, stop doing? Just be present. What you discover may surprise you."
Moreover, the article goes on to say that in being present with only yourself, you become more curious about yourself—because you are no longer reflected in the eyes of other people. You are simply you. And from that place, you may find that you are driven to become more curious about other people as well as the base of their fears. You could, of course, presume to know why someone is fearful and fill in their sentence for them, thereby solving the problem. But when overcoming obstacles, I'd like to encourage you to not do that. Here's why. Often when someone is fearful, it's actually driven from a very human place regarding a particular concern. Consider the family that fears living near a railroad track. They don't actually fear their location, they're concerned about lifestyle—how often will they hear trains? Will the trains wake up the kids? Will the house be harder to sell in the future?
According to the HBR article, "You need courage because slowing down will, by its very nature, bring up unfamiliar and unsettling feelings. And, to avoid feeling, we typically move." So your job here is to stop moving. And encourage your buyers and sellers to stop moving, too. Avoid filling in the gaps. Allow buyers or sellers to share their obstacles with you—and don't try to fix it.
What to Do Instead
This is simple, albeit difficult: Instead of being a fixer, you must become empathetic. Listen. Understand. Comfort. Need a list of specifics? The next time your buyer or seller shares a concern, here are a few things you can do in place of assuaging their fears:
Embrace the uncomfortable conversations. Stop avoiding tough talks because you're afraid the conversation will go negative or you worry you won't have the answer. Being curious and empathetic doesn't require answers—it only requires you to put yourself in the place of your customer.
Don't dismiss concerns. Allow people to feel whatever it is they need to feel—fear, anger, confusion, anxiety. These are all emotions that humans are capable of feeling and as such, they should be embraced rather than brushed under the rug.
Ask, "Tell me more about that." Encourage your customers to speak freely about what is in their head and heart rather than trying to guide the conversation. This is a time that is truly about listening to others.
Don't commandeer the conversation. Many of us do this out of a place of trying to relate, but it can actually harm the relationship. Allow the other person to air their concerns instead of talking at them about your similar experience.
Focus on the numbers. Once you've asked for more information and explored the layers to reach the true, bottom-line obstacle, now it's time to share data and facts to give the homebuyer a broader perspective to consider. For some markets, it will be easy to dig up articles about a booming home economy, hot markets, and being among the best places to live. For other markets, you'll need to work a little harder to find qualitative proof. Nonetheless, I encourage you to study your area's numbers, find some positives and have those at the ready. Once you've let a customer talk and explore their fears, let them know you have a few things that might prove helpful—and email them the positive articles you have on hand.
Have a swipe file on hand. Every time you find a positive article about your market, store it in the swipe file. Then, when presented with an opportunity to share the market positives in an effort to help buyers or sellers overcome obstacles, you have a whole list of them at the ready to share!
Offer positive testimonials or case studies. Keep track of your own numbers. From the number of closings you had last month to the number of individuals you gave virtual tours to last week, your customers crave this kind of connection with their peers. What are other people doing? Is it safe to do the same thing? It's called social proof which is essentially saying, "X number of people felt okay moving forward with purchasing a home therefore YOU can feel comfortable purchasing a home."
Get Comfortable Being Uncomfortable
Changing over from fixing problems to encouraging curiosity and feeling empathetic isn't going to feel comfortable for you—not at first. Because you're used to being able to shut down fear with fixes. And that's okay. But curiosity enables you to form a deeper connection with your prospect though it takes far more effort. What would happen if you started having meaningful conversations with your prospects? If instead of taking the reins you handed them over and let your prospect speak freely? You can't do this with a canned script or practiced responses—it will come across as inauthentic. Be proactive. Be confident where you can be. And the next time you stumble across an opportunity to be uncomfortable—I encourage you to embrace it.

Stay tuned for the next blog in this series where we will discuss "L" in BOLD otherwise known as Love it or List It! See you soon.

Tags: BOLD, certified professional speaker, certified virtual speaker, Homebuilder Marketing, Meredith Oliver, new homes sales, Obstacles, overcoming obstacles, virtual keynote speaker, virtual sales seminar


Categorised in: Content Marketing, Crisis Marketing, FANtastic Marketing Tips, FANtastic Selling, FANtastic Selling Tips