May 25, 2020
Be B.O.L.D.: Sales & Marketing in Uncertain Times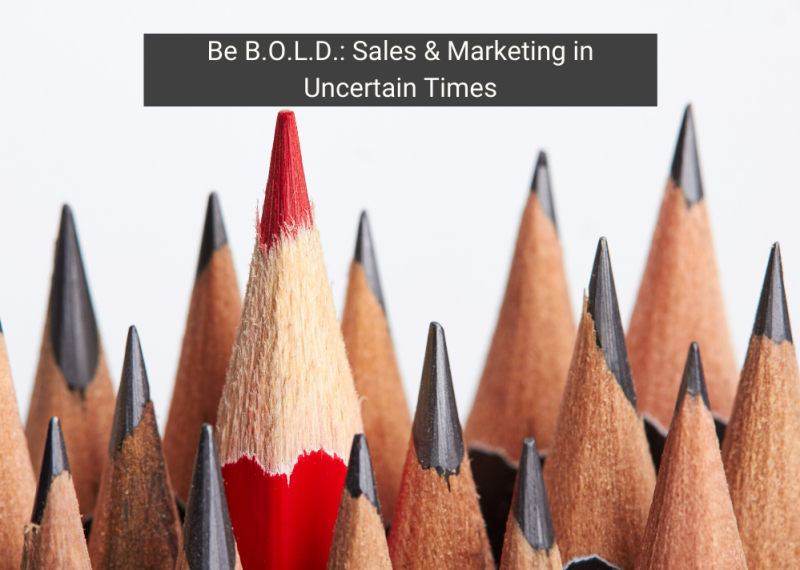 Putting your expertise out there in uncertain times can feel scary. Which is why you also likely know that it's the best thing for your business! Being bold with your marketing in uncertain times is one of the best ways to ensure continued health and success across your organization. So, what are some ways you can prove proactive in today's economy? The answers lie in a simple acronym.
The acronym explained
What does it mean to be B.O.L.D.? From a strictly Webster point of view, bold means showing an ability to take risks; confident and courageous. That's something many of us could do a little more of at any time—but especially in times where the future seems uncertain. And it's one thing to say you're being bold but it's another to embody this word which is why approaching it from an acronym standpoint works so well. For in order to be bold you must:
B: Break Barriers
O: Overcome Obstacles
L: Love It Or List It (not the T.V. show)
D: Do What Works
Where boldness begins
Your website is the top of your sales funnel—a starting pipeline to future sales. So much of selling already happens virtually and it's important to embrace this as part of the process. Potential buyers are calling, chatting, and inquiring after tours. It's up to you to decide how you can help them navigate everything you have to offer online. That's right—understand that selling over the internet can be as rewarding as doing so in person. And utilize your website as the most important sales person you've ever hired!
What else we know
Being B.O.L.D. matters right now. Breaking out of the mold matters right now. Consider that we are seeing record low-interest rates and record low inventory. What we don't know are things like the impact unemployment will have on people's ability to qualify and buy in the future. Nonetheless there are thriving markets out there—healthcare and tech to name two—that are truly flourishing. I'm hopeful. And moreover, I believe that when you when you're bold making sales happen, you actually can still make them happen.

That is what we'll be discussing over the span of this series where we'll dive into each letter of B.O.L.D. and discuss how you can make it work for your business. Talk to you soon!

Tags: Meredith Oliver, Selling, Small Business Marketing


Categorised in: Career Advice, Crisis Marketing, Digital Marketing, FANtastic Selling, Marketing Mondays