August 23, 2021
August Builder Town Hall Recap, Part II: Shining a Light on Marketing Innovation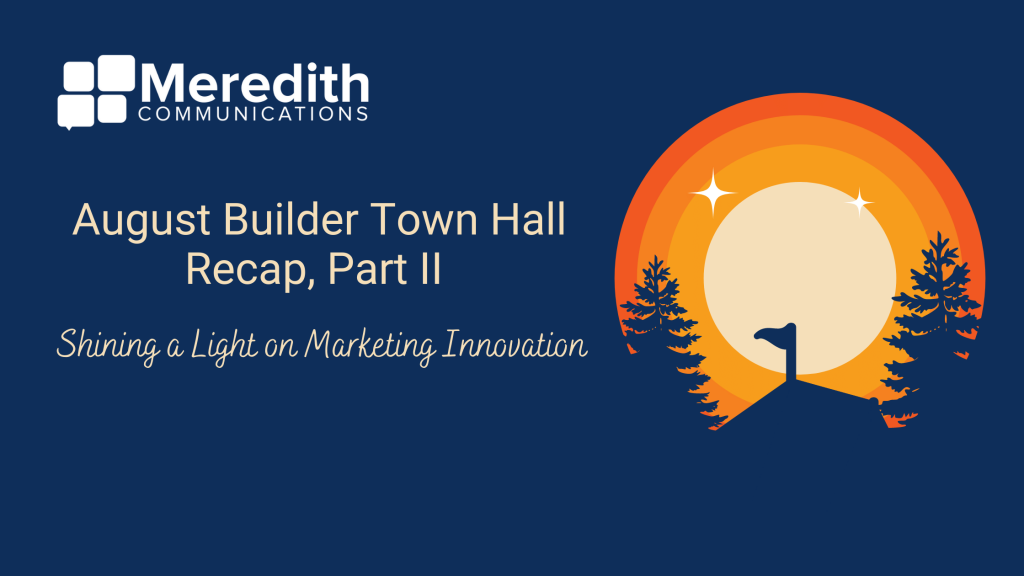 The August Builder Town Hall was a lively event with a ton of valuable information shared warranting two blogs to cover it all. In the first post (8 Key Takeaways from the August Builder Town Hall), we summarized the key discussion points and in Part II, we discuss some of the innovative marketing practices our partners have implemented.
One of our August guests, Angela McKay, VP of Customer Experience at Anewgo, highlighted and awarded merit badges (in true summer camp style) to several builders in our community who have enhanced their customer experiences through engaging sales and marketing techniques that are innovative and, most importantly, customer-centric.
Here are the home builders Angela applauded for flexing their marketing muscles in new and engaging ways:
M/I Homes – MI Homes generated a simple out-of-office automated email that sets contact expectations when the OSC is unable to respond to the request immediately. This is a perfect example of effectively managing expectations. The more information shared with the customer, the more likely you are to keep that customer engaged.
Interest List Auto Reply Email – A condo developer in Vancouver, Canada embedded a simple survey in the automated reply email to everyone who had completed an expression of interest form online. The initial interest list had 2,000 prospective buyers on it but the survey allowed them to distill the number to 800 truly interested prospects leading to subsequent, more targeted, and successful marketing efforts.
Lennar Homes & Keystone Custom Home – Both companies have recently launched new, streamlined websites that focus solely on available home plans by location. These sites offer an intuitive, user-friendly, "Zillow" type of experience allowing visitors to quickly view homes without wading through community content first. This ease of navigation enhances the client experience and keeps them on the sites longer boosting overall engagement.
Stone Martin Homes – Stone Martin offers an exciting give-away. All in-person buyers receive a tablet that is loaded with all post-purchase information. This "gift with purchase" is part of Stone Martin's commitment to overall buyer satisfaction. Their engagement does not end with the sale. They continue to stay in touch with buyers through an exemplary post-purchase communication campaign.
Maronda Homes – Maronda Homes leverages Instagram (@marondahomes) with highly effective visuals to communicate "Why Buy New". Their imagery and design illustrate the value of showing vs. telling on visual social media platforms. Instagram Reels, specifically, are becoming an important tool and are currently much favored by the Instagram algorithm. They are almost guaranteed to reach more Instagram users than standard posts. Though similar to Instagram Stories, Reels offer a wider range of video editing tools, AR effects, and speed controls etc. making it easy to trim, stitch and align videos for seamless transitions. If you haven't jumped on this bandwagon yet, we encourage you to hitch a ride soon!
Red Door Homes – To generate excitement, Red Door is hosting in-person "Dream Home Workshops" to help first-time homebuyers better understand the process. They have deliberately used the term "workshop" to give the event a useful, hands-on appeal and encourage engagement. The response has been excellent.
In each of these cases, these builders broadened their appeal and their reach by developing and implementing new approaches to marketing.  Whether through improved websites offering a better user experience, an enhanced social media presence, more effective communication, or community-building initiatives, they all focused their efforts on customer engagement in one way or another. In doing so, they've strengthened their builder brands and their communities resulting in more sales and happy customers.  We hope these excellent examples inspire you to innovate and try new ways to reach potential customers. Keep it fresh!

Looking forward to seeing you all in September!  Mark your calendar and register today for our September 7, 2021, Town Hall – topic and featured guest info coming soon!

In the meantime, be sure to join our Builder Town Hall Facebook Group and keep the conversation going!

Tags: Builder Town Hall, Homebuilder Marketing, New Home Sales, Town Hall, virtual event, Zoom


Categorised in: Builder Town Hall, Content Marketing, Email Marketing, Home Builder Marketing & Sales, Home Builder Websites, Social Media, Technology