August 16, 2021
8 Key Takeaways from the August Builder Town Hall (Part I)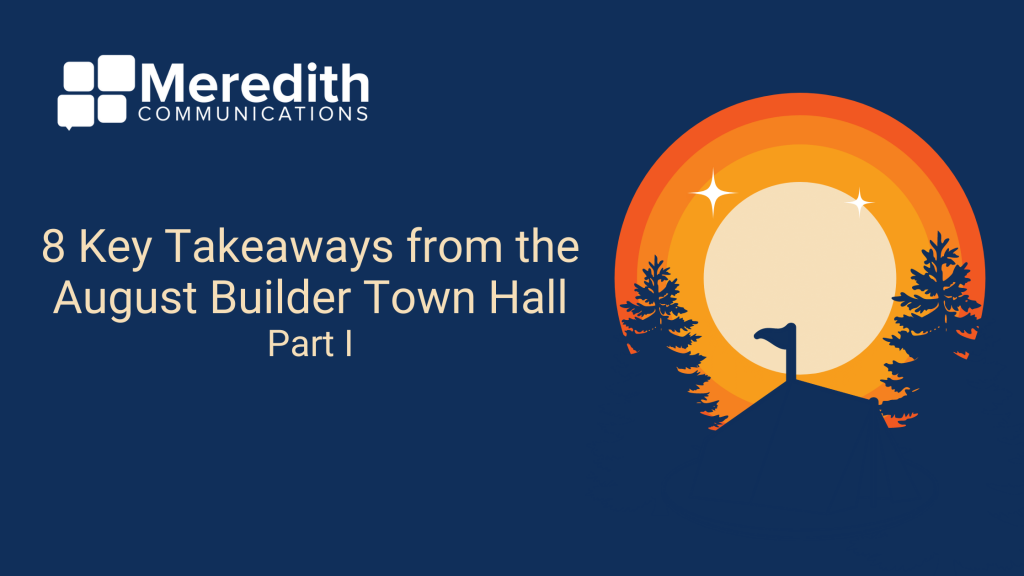 The August Builder Town Hall event was a smashing success. We shared valuable tips, strategies, and best practices with our builder community – ones you can implement immediately to boost sales and improve customer satisfaction. The Summer Camp theme was not only fun, but it also helped you refocus on what really matters – sales and happy home buyers. If you missed the Town Hall, you can watch the recap here.
8 Key Takeaways from August Builder Town Hall:

1. Vanity vs. Quality Metrics – Don't rely on vanity metrics to evaluate success and performance. Vanity metrics, like the number of walk-throughs of a model home, may seem impressive and exciting, but in fact, do not offer any meaningful insights that could shape future business decisions.
Consider an interest list of 500 names – a perfect example of a vanity metric. Likely half of the buyers on the list signed up when home values were lower than what the community is selling at now. Another large percentage of the list has already purchased elsewhere or given up on purchasing new construction because of the long delivery times. Do not despair; keep marketing and continue to add highly targeted, qualified names to your interest list to ensure you have buyers who are truly interested at the new price point and accepting of delivery and completion dates.
2. Value-added Conversion Metrics – Track the metrics that matter. They will help you refine your marketing tactics and define/capture your true customers. These key conversion metrics include:
Website unique visitor to online lead percentage
Online lead to virtual or in-person appointment percentage
Appointment to contract percentage
First appointment to second appointment percentage
Conversion metrics help you understand how well the online and onsite sales teams are performing, pursuing the leads they've been given. If your team is following the sales process, conducting consistent follow-ups, and asking for the sale, then the percentages will reflect that activity.
3. Practice gratitude – Magda Esola, Community Sales Manager at Fielding Homes and our August feature guest, emphasizes the importance of gratitude and attitude in helping her avoid burnout despite the hectic pace of the current market. She reminds us to focus on the WHY – the underlying beliefs and motivating factors that drive you to be client-focused. Remember you are helping people make one of the most important decisions of their lives. It can bring so much joy. Homebuyer satisfaction should be a core driver for all home builders and marketers alike.
4. Always manage expectations – This applies to life in general but specifically to selling homes in unpredictable times. It is absolutely vital you communicate with home buyers early and often. Magda recommends that new home sales professionals meet weekly with the construction team, ideally in person, to review the progress of each home under contract. This meeting will provide timely updates on the construction status of each home that she can then convey to each buyer to keep them informed. Arm yourself and your buyer with current information. It will go a long way to allaying fears, concerns, and doubts. It is an important way to nurture and develop your client relationships.
5. Eat the frog – The phrase, made popular by Brian Tracy in his book "Eat That Frog", means do the difficult thing first.  Following up on the previous point re. managing expectations, share the difficult news with a homebuyer first (i.e. construction delay), and get it over with. By "eating the frog" upfront, all subsequent news (or food) will seem all the more digestible!
6. Fuel your drive – No one said it would be easy to keep focussed and motivated. You need to fuel your drive with education and community connection. Follow Magda's example. Even though she has won numerous sales awards and excelled at every level of her career, she continues to attend educational and industry networking events to fuel her drive. Magda knows full well that you can't drive a car with the gas tank on "E" and the same is true for new home sales professionals. Fill up your tank with education and networking!
7. Make team meetings matter – It is easy to fall into a rut, conducting scheduled team meetings in a rote and predictable manner. Shake it up! Kerry Mulcrone of Kerry and Co shared the importance of making your team meetings conversational and interactive bridging the online sales team (OSC) with the onsite sales team. As this summer camp's activity director, Kerry shared 3 easy ways to amp up the value of your team meetings with activities that matter:
Review the appointments set and kept by the OSC and discuss the conversations that took place during each appointment.
Keep a sales journal. Write it down so you can remember what went right after a sale and what went wrong. Tracking the details will allow you to create nuanced, targeted marketing campaigns that are better suited and more attractive to your target audience. Remember, the mistakes may actually provide the greatest insight and lead to profound positive change
Have fun with the FUNdamentals – Prioritize your time each day to FUNdamentally do what is right and relevant for that specific day. Whether it is eating that frog, giving a buyer difficult news, or handing keys to a home buyer, do it! Be flexible and willing to pivot as circumstances change and challenges present themselves. And make a concerted, disciplined effort to practice this FUNdamental daily: Spend one hour in your CRM reaching out, checking in, and updating your prospect records.
8) Stand out with smart, thoughtful, and innovative marketing – Angela McKay, VP of Customer Experience at Anewgo awarded "merit badges" to several builders that have enhanced the customer experience with their innovative sales and marketing approaches. Angela hopes these merit badges serve as an incentive to others to adopt a customer-centric sensibility when developing their sales and marketing campaigns. Don't be afraid to innovate. Incorporate new designs, new CTAs, new media etc. to attract and secure home-buyers. Keep it fresh!

>>>STAY TUNED FOR PART II of this post, where Angela shares some excellent, specific examples of home builders flexing their marketing muscles in new and engaging ways!


—

We are so grateful for all the information and conversation shared at August's Town Hall. A special thanks to our featured guests Magda Esola from Fielding Homes, Kerry Mulcrone of Kerry and Co, and Angela McKay from Anewgo for their insights and guidance. And, in addition, we'd like to present the Shining Star Camper Award to Cori Masters of Oklahoma's Beacon Homes. A true team player, Cori generously and consistently shares her time and talents with us at our town halls and with the industry as a whole, helping all of us improve professionally.

We hope everyone in the home builder community found it helpful and we welcome all of you back in September for our next Town Hall.

Mark your calendar and register today for our September 7, 2021, Town Hall – topic and featured guest info coming soon! Keep the conversation going all month long in our Builder Town Hall Facebook Group, open to anyone in the homebuilding industry.

Tags: Analytics, Builder Town Hall, Digital Marketing, Homebuilder Marketing, New Home Sales, Sales Leadership, Town Hall, virtual event


Categorised in: Builder Town Hall, Home Builder Marketing & Sales