August 5, 2021
That Was Easy: Learn How Catalyst™ CMS Improves and Simplifies Home Builder Websites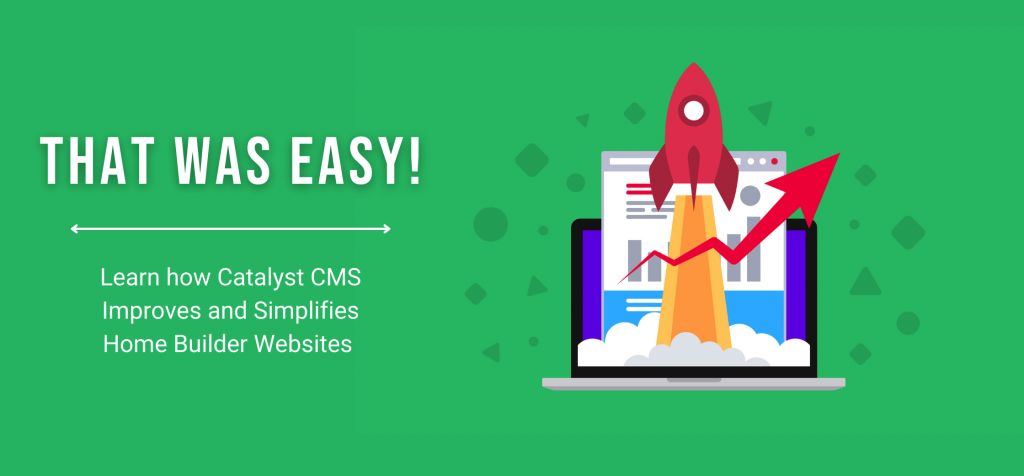 Meredith Communications has been designing and developing award-winning home builder websites for nearly two decades.  Every front-end design is carefully considered and crafted to reflect the builder's specific brand identity and appeal to their target audiences.  And though our award-winning designs are beautiful and well-received, we use a proprietary, customized version of WordPress for the CMS (Content Management System) called Catalyst™, which packs the real punch.
We developed the Catalyst™ CMS specifically with home builder websites in mind, and it is critical to their success (and ours!).  Catalyst™ delivers the best of both worlds – the simplicity and familiarity of WordPress, arguably the easiest CMS to use, AND the robust database functionality home builders require to manage floor plans, communities, and available homes.  Now running on hundreds of home builder WordPress websites across North America, Catalyst™ is proven, reliable and successful. And we continue to update and enhance it to ensure builders can easily and effectively manage their own content and end-users, in turn, continue to have a rich and seamless experience – ultimately leading to more home sales and happy home builders!
Catalyst™ Empowers our Clients
For us, the key driver behind the creation of Catalyst™ was client empowerment. We understood the inherent frustrations builders were experiencing being at the mercy of webmasters, ad agencies, and digital marketing partners to make simple changes to their websites.
Our clients were clamoring for the flexibility, freedom, and know-how to support their own websites. We at Meredith Communications heard them and, thus, Catalyst™ was born.
Using the easy-to-use proprietary version of the WordPress platform for the Catalyst™ CMS, our builder websites offer our clients the ability to control, manage, and update their content. In addition, we provide them with the master login to the domain name, Google Analytics account, and Catalyst™ CMS admin login for full access.  We also provide clients with the requisite tools and education needed to successfully market and sell new homes and communities through their new Meredith Communications-designed website.
Updating Made Easy
Long after we've completed a builder website, we remain avid cheerleaders, supporting and encouraging all our clients to exercise agency over the content and direction of their websites by leveraging the robust features of the Catalyst™ CMS to make their desired changes in-house, in real-time.
Understanding that the home building business is fast-paced and dynamic, incorporating a simple but robust CMS that facilitates easy content management is priority #1.  As builders begin to promote their communities, home sites, floor plans, and features, the information they can share is constantly evolving – homes sell, suppliers change, plans are revised, and community services expand. Visitors to builder websites expect up-to-date virtual tours, interactive site maps, available home inventories, etc.; after all, this is the information a buyer needs to inform their decisions and move down your sales funnel.  With Catalyst™ staying current is easy. It is simple to add, delete and revise key website content to ensure information is timely and correct. This is absolutely vital for builder success – sales hinge upon it.
In a few intuitive steps, builders can update all of the following information on their sites, giving potential buyers everything they need to make a home-buying decision and giving builders more qualified, online leads:
Communities
Available Homes
Homesites
Photo Galleries
Interactive Site Maps
Virtual Tours
Blog Posts
Contact Forms
Landing pages
PDFs, links, downloads
Choosing a Catalyst™ CMS, then, is really a no-brainer. It gives back control of your website.
Industry-Wide Integrations
We also recognize that many builder websites are integrated with other industry applications and tools that deliver enhanced site functionality. Thankfully, Catalyst™ allows for seamless integration with some of the most popular, industry-leading software tools out there, including:
·       BDX & Zillow listing feeds

·      eci Lasso Forms

·      Live Chat

·      Sales Simplicity

·      Salesforce

·      Top Builder

·      Outhouse Interactive Media

·      Rendering House

·      Focus360 Interactive

·      OpenHouse.ai

·      Calendly

·      LotVue
This ensures your website delivers optimal functionality and successfully leverages your investment in all the technology utilized by your site.
It is also worth mentioning that once we build a WordPress Catalyst™ site for you, we give you full access to the site. Recognizing that circumstances sometimes change and you may want to switch to another hosting service or engage another marketing or digital agency for SEO or PPC campaigns, rest assured, we will provide you with FULL access to your entire site and work to ensure a seamless transition to your new provider.  Our clients are never held hostage!
Is Catalyst™ Calling You?
Email, call or text Meredith Communications and find out how we can help you redesign your website utilizing WordPress and our proprietary Catalyst™ CMS  and take control of your own site today!  We look forward to discussing your website needs.

Tags: Catalyst CMS, CMS, Content Marketing System, home builder websites, Website Design, Website Maintenance, Wordpress


Categorised in: Digital Marketing, Home Builder Marketing & Sales, Home Builder Websites, Website Design, What We Do