January 18, 2021
Six Lessons Learned From Hosting a FANtastic Virtual Event – Part II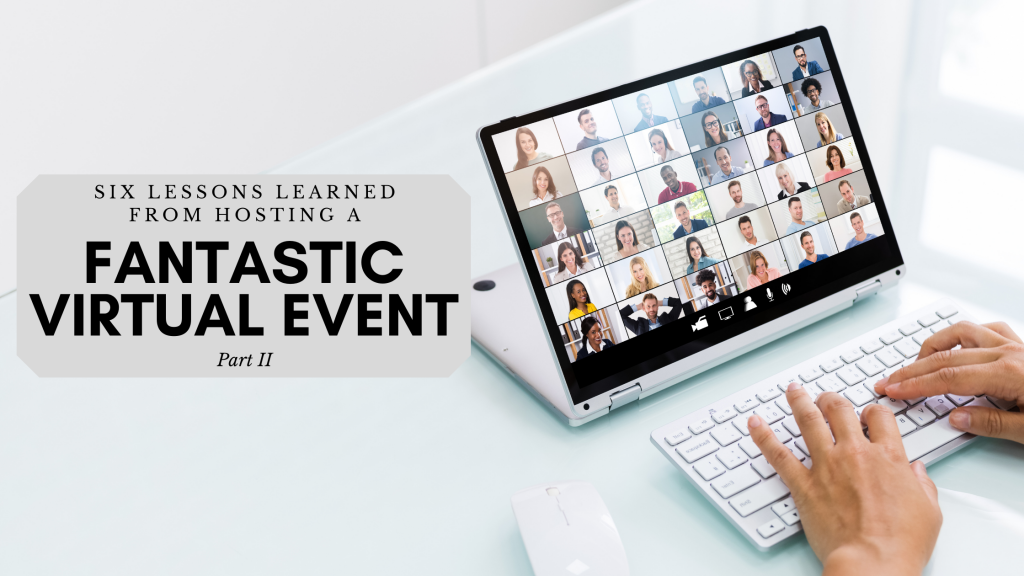 The importance of hosting an online event or summit cannot be stressed enough during this COVID economy. It's one of the best ways to engage with clients and potential clients and customers while keeping socially distanced. Last time I answered some questions about how to create an event that is really engaging and makes people feel less distant and more involved. This time, I'm going to give you some suggestions and answers for the technical side of hosting an event. Take this seriously, because the last thing you want is a glitchy event that causes people to give up and find an excuse to switch to Netflix. You know how annoying it is when Netflix is glitchy, and they've got a huge company of experts behind them to keep things running smoothly. You likely don't have that kind of expertise, so here's how you look like you do.
Picking a Platform
Lesson number one: the virtual app and/or software platform that you use really matters. And don't forget, you get what you pay for! You may not want to spend a ton of money and some of these can get pricey, but a service or platform with a solid reputation is going to make the extra cost worth it when your event runs smoothly and attendees aren't getting dropped or confused, events don't crash, and there isn't horrible lag time — all of which I've experienced with free platforms.
For example, if you're planning a full virtual summit-type event, with sponsors, virtual exhibit booths, breakout sessions, and keynote sessions, we recommend Whova. This platform starts around a couple of thousand dollars for approximately 500 attendees and goes up from there. They also offer various add-ons, and this is where I say it's worth it to pay if that add-on is something that you think will really enhance the experience and engagement.
Of course, you'd have to have been hiding under a rock this past year not to have heard of Zoom. So when do you use it and when do you find something else? Zoom is fantastic for team meetings. It's even a fantastic choice for a webinar, a town hall, or an educational webinar type of event, such as one-hour Realtor education events or "Meet the Pros" sessions in addition to summits. Technically, you can use it for a conference too, but you're not going to have the same kind of interaction thread where people can have those hallway conversations, because you don't have a central place where everyone is communicating.
You could try to embed Zoom into a platform like Whova but don't. Please, don't. You are going to crash and burn. Zoom used in its native app form is fine, but our experience is that when you embed it in a third party app, your video and audio are going to fall to pieces. I speak from experience. That's why I recommend Whova over Zoom — and no, I'm not a Whova affiliate, etc. We've just really found them useful! Keep Zoom for webinars and meetings, not for live streaming video.
For live streaming video that can be used within a platform like Whova, we like Vimeo. There's a relatively small annual streaming license fee, but you'll find that it's more than worth it for the quality you get. No lags, no drops, just smooth live streaming that does a great job of recreating the experience.
A/V VIP
Just as you need to be willing to pay for the right platform, you get what you pay for when it comes to audio and video. Be willing to invest in top-quality AV support. Even if you're fairly familiar with the kind of setup needed, we HIGHLY recommend hiring an experienced audiovisual company to run your summit/event. We did for our summit and they did all the pre-production as well as running the event all day long, and the result was flawless because they knew what they were doing.
I know some of you aren't going to want to pay for this service because it costs more than you think, but I cannot stress enough how much you need it. You will thank me in the long run. Are you ready and able to create graphics, logos, videos, music, etc.? Trust me, you're not. And when they recommend certain software or apps for putting things together, listen to them and get them what they want. When they're skilled in specific software, why make them use something they don't know or like? They're the experts. Trust them. If you really are set on a specific platform, then find AV experts who use that one. Don't go messing with square pegs and round holes. It doesn't work out well.
Get Your Pass
We've been honest. Hosting these virtual events is a lot of work, but it can definitely pay off, and as you become more familiar with them and see what works and what doesn't, they'll become easier. For now, do you want to see how we did it and, in the process, learn more about selling new homes in this new world? Check out the Home Builder Growth Summit we hosted. Selling new homes has changed and it's time to learn the new rules. The All-Access, On-Demand Pass includes all of the summit's in-depth video sessions, including two keynote presentations, four concurrent sessions, eight Meet the Pros sessions, 15 Power Player interviews, and 10 Meet the Expert interviews. The Pass is available now for home building industry professionals who missed the live stream event. See how engaging virtual events can be and learn more about selling new homes in the process. Get your copy of the All-Access On-Demand Pass today from the Home Builder Growth Summit website.

Tags: apps, home builder growth summit, Technology, virtual events, virtual summit


Categorised in: Apps, Home Builder Growth Summit, Home Builder Marketing & Sales, Technology, Virtual Events, What's 'Appening