April 20, 2021
7 FANtastic Facebook Ad Optimization Tips for Home Builders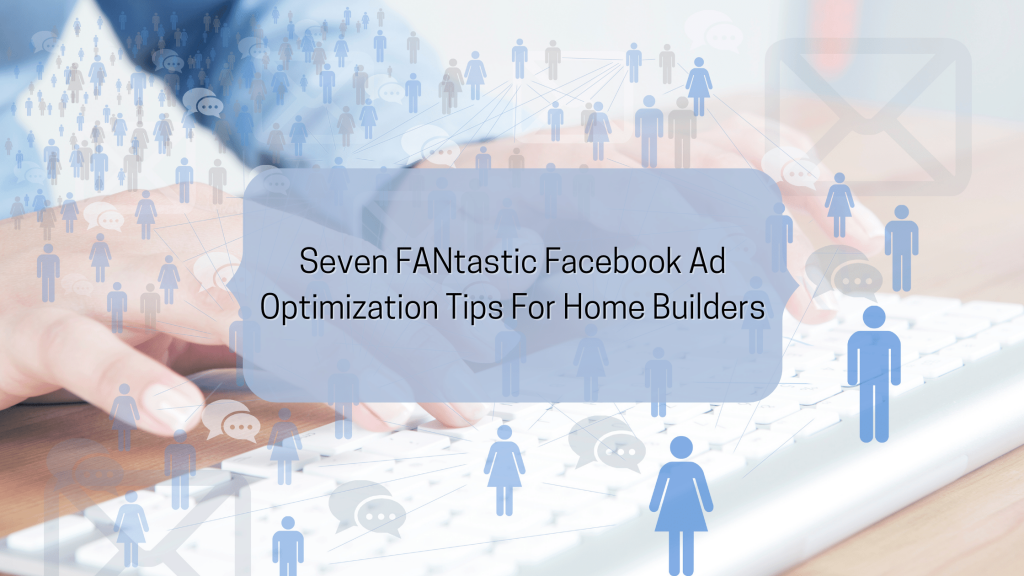 Love it or hate it, Facebook plays a huge part in today's marketing and advertising. So much, so it is typically ranked either the number one or two of the highest volume website traffic sources on our clients Google Analytics Traffic Sources report (Google Organic traffic is the other highest source of traffic and always the highest converting source of traffic with the best quality traffic).  There's a lot of info already published to wade through, and it can be confusing at best! Here are our top tips, focused mainly on trends we're seeing as most effective this year (as algorithms and other things change regularly), but you'll also find the kinds of details you need to know, year in and year out.
Is it a post, or is it an ad?
These days, you want at least some of your ads to look like regular news feed posts. They should look organic and blend in with the kind of stuff people's friends are posting but still stand out. Some brands will even use amateur photos and videos to give a very authentic feel. We don't recommend going that far with the images of your homes, communities, and amenities. When it comes to the biggest investment of someone's lifetime, you still need to use highly professional, stunning photos of your homes, etc. However, lifestyle images and company photos of your team actually perform better on social media when they are more genuine, authentic, and real as humanly (get it!) possible. Less perfect photos in these categories are a plus. You want people to stop scrolling and think to themselves, wait, is this a post or an ad? It seems to be "real" to be an ad!
Lose the stuffed shirt!
How do you convey a vibe more like a post and not an ad? Appropriate to your target audience (of course), consider being a bit more relaxed and fun. Use conversational language, emojis. And post styles. Use fun (casual but styled) photos of your staff inside your model homes or attending industry events to show your company culture and the people behind the logo. These ads will make viewers stop and look rather than see an obvious ad and scroll past with barely a glance.
Carousel ads are the Swiss Army Knife of Facebook ads.
Use Carousel Ads to show multiple communities in which you build. These ads are tailor-made for displaying multiple products, whether it's communities or homes or even interiors of a specific home you're promoting. You can display up to 10 images or videos in one ad. They also let you link to different landing pages for each panel, making it easy to direct viewers straight to what you're promoting. Ideally, for home builders, you want to make the location and the price clearly visible in the headline and preview link copy to help viewers self-qualify before they click. This will improve your website bounce rates and increase the quality of your inbound lead generation.
Short and sweet is always better.
There are all sorts of opinions about what the ideal Facebook ad length/size should be. When it comes to videos, shorter does tend to go over better, but videos are a must. Captioned videos are your best bet to make them accessible to just about everyone. While Facebook videos can actually be up to 240 minutes long, save your longer videos for model home-guided tours or events you host to answer buyer's questions online. When it comes to most videos and ads, keep it short: 30 seconds or less has the highest viewership at over 80%. This is a great time to use GIFs, where you can include content and images on a loop to get your point across easily. Highlight the perks of communities or details of a home design without having to create a high-end video.
Stalking isn't creepy if you are in marketing.
Get a handle on Facebook remarketing — reaching out to those who have already interacted with you in some way — and custom audiences. Ideally, when targeting your audiences, you want to use multiple layers of targets, including location, interests, and behaviors relevant to your potential clients. This takes work, but it's achievable when you make an effort to get to know your buyer. Think about what draws your clients in and use that to reach out to more people with similar interests.
Tailor your ad to the platform and placement.
Finally, if you go to all of this work to make the most of your Facebook advertising but don't bother to check the ad size specs, it could all be for nothing. A poorly sized ad that has information cut off isn't going to instill a lot of confidence in potential buyers. If you can't properly measure an ad space, how can they believe you can measure properly for a home! There are different sizes for different ads, including image ads, video ads, carousel ads, and slideshow ads. Make sure you're up to date on the latest numbers and make sure your ads fit perfectly.
To thine own self be true.
Ultimately, the types of images and advertising you use should be true to your brand. If it goes against your brand's style, don't do it. You always want to be authentic and transparent. Remember that this is typically a person's biggest purchase. Potential buyers need to have confidence in you, but they also want to be WOWed by you. Put your best images and information forward to encourage people to explore more of your website and Facebook page so that they'll ultimately feel comfortable contacting you to discuss their brand new home.

Tags: Digital Marketing, Facebook, Google Analytics, Home Builder Marketing, Paid Digital


Categorised in: Digital Marketing, FANtastic Marketing Tips, Home Builder Marketing & Sales, Social Media