April 28, 2022
Meredith Communications Launches New Website for Landon Homes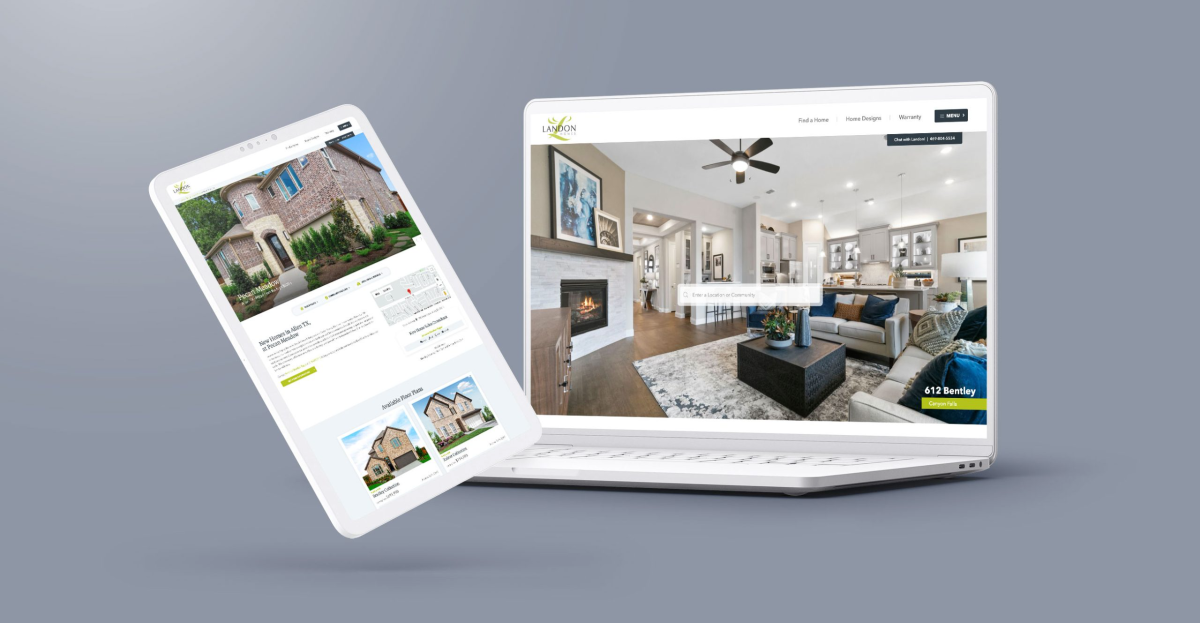 Meredith Communications is thrilled to announce the launch of Landon Homes' new website. We are beyond grateful for their loyalty and partnership over the past ten years. This is the fifth website we have designed and launched for Landon Homes. 
In addition to website design, we also deliver SEO, SEM, blogging, Online Sales Counselor coaching, and social media marketing services to Landon Homes. We are honored to have helped them tell their story through quality digital content over the years and we are thrilled to see what is to come through our continued partnership. 
Who Is Landon Homes?
John Landon—President of Landon Homes and a powerful force in the home building industry since the 1980s—founded Landon Homes in 2008. His vision was to establish a company that would embrace the latest in design and building materials to build a better home while keeping the strong value-price equation for which Landon was known. 
Today, Landon Homes is an established leader of home designs and value homes based in the Dallas Fort Worth area. They offer homes from the $400s to over $1 million. Throughout its history, Landon Homes has presented a standard of excellence, success, and a dedication to quality for its customers. 
Website Look & Feel
Our main focus in redesigning this site was to provide ease to the navigability while showcasing the excellence of Landon Homes' design. We utilized a soft and inviting color palette to reflect the sophistication and luxury of Landon Homes.  
Home Page – Upon entering the site, the user is greeted with a stunning panoramic hero image across the top of the home page. This display functions as a carousel of photos of various merchandised model homes and lifestyle images. The user is immediately struck with aspirational feelings of homeownership before even navigating away from the home page.
Navigation – The user then encounters the "Quick Search by Community Name or Location" function. We integrated this feature into the hero image so the large image does not overshadow the navigation. Our mission with this site is to enhance each user's experience by making it easy for them to find their perfect home among the abundance of designs that Landon Homes offers. In our redesign, we created a variety of search functions, menu categorizations, and view options to make this possible.
Menu Design – We've also streamlined and simplified the primary navigation menu design and structure by reducing the number of menus to three. The rest of the website content can be found in a hamburger menu or in the elegantly designed drop-down menu, making it easier for the user to select pages that direct them toward homes and the home selection process.
Find a Home Page — This page offers users three ways to view available communities: Map View, Grid View, and List View. We created each view with different types of users in mind. Our Grid View and List View provide mobile users with a streamlined layout that is effortlessly navigable on any mobile device.
Community Detail Page – Landon Homes provides a variety of floor plan options across seven masterfully planned communities. For each Community Detail page, we wanted to incorporate the newest website design trends to showcase their excellent design and optimize each user's experience. Upon entering a Community Detail page, the user is greeted with a panoramic model home and community photo carousel at the top of the screen with arrows to allow the user to control the slideshow. The user's eye is then drawn to the sub-navigation located directly below the display. This feature allows the user to navigate to the information on the page that is most prevalent to them. With the intention to call attention to the quality of Landon Homes' homes, the Community Detail pages display large floor plan preview images. These images include vital information such as the base price, square footage, and call to action buttons to entice users to navigate to a more in-depth detail page for the respective floor plan. Users can also easily view homesite availability and explore the area on interactive maps. These maps feature the variety of schools, services, and entertainment options that are available near each community.
Gallery – Landon Homes is known for its beautiful designs and quality homes. What better way to showcase this standard than through an extensive gallery? Users will be able to scroll through in-depth photo albums that feature 32-floor plans.
Contact Information
Perhaps one of the most important feature enhancements we made was streamlining the communication between users and the friendly team at Landon Homes. 
Users can find live chat and multiple call to action opportunities on every page. We also made sure to prominently place contact information—including phone numbers and email links—in headers, footers, and on all Community, Floor Plan, and Available Homes pages. 
Behind the Scenes
Though we are proud of the visual quality of this new site, it's also important to acknowledge the behind-the-scenes elements. This website was designed with both user and builder in mind.
SEO
In order to increase website traffic, we thoroughly optimized the entire website with relevant SEO keyword phrases. We carefully crafted each community page description with keywords to help drive page 1 Google Organic rankings. 
Catalyst
With the new design, Landon Homes is able to conveniently update their lot and site maps in our Custom WordPress CMS called Catalyst. 
We developed Catalyst to provide ease to our builders in navigating the robust database functionality they require to manage floor plans, communities, and available homes. By incorporating this CMS into our website design, builders are able to efficiently and effectively manage their content. 
Want to See More?
We are so thrilled to see the continued success of this site design. It was a pleasure to work with Landon Homes to create a gorgeous, cutting-edge website to properly showcase their excellency in the home building industry. 

At Meredith Communications, we strive to help builders use digital tools to tell builder stories and grow their business. Check out our portfolio to see more of us doing what we love! 

Tags: Catalyst CMS, Custom Home Builder Website, Custom WordPress Website, Home Builder Marketing, Landon Homes, Website Design


Categorised in: Content Marketing, Digital Marketing, Home Builder Websites, Meredith Communications News, Search Engine Optimization (SEO)