October 4, 2021
How to Create FANtastic Sales Videos – Sept Builder Town Hall Recap, Part II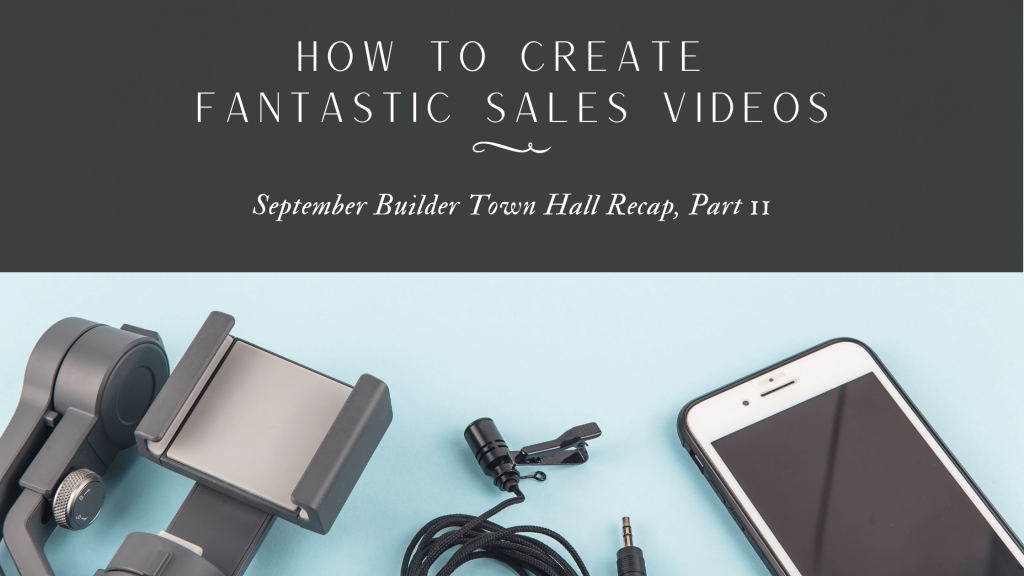 September Builder Town Hall special guest Dave Cooper and host Meredith Oliver shared so many tips on video creation and content we needed two blogs to cover all of the content. Part I summarized key video marketing statistics and video content ideas. In this blog, we will cover when to live stream versus when to pre-record video and six tips on how to get started recording video messages.
Livestream or Pre-recorded Video?
Deciding whether to livestream or record video for use at a later time/place is ultimately personal preference.  However, Dave does recommend utilizing both, depending on the circumstance.
If you want to have an individual conversation with a buyer, a pre-recorded segment is recommended. For example, document the progress on their home and then send it directly to them as an email or text update. This is a highly effective way of managing expectations,  building excitement, and sharing the process with new home buyers.
In contrast, if you want to reach a broader audience by answering common questions, consider going live to showcase a new product or community, provide a general construction update, or conduct a model home walk-through.
How to get started?
 Don't let self-consciousness get in your way of jumping on the video bandwagon. Always remember, people, are rooting for you. They want you to succeed, and they want to connect. If you get tongue-tied or make another mistake, the audience will forgive you. We are all humans, and you will be given grace. You don't need to be perfect, just yourself. Just give it a go!
Here are some simple ways to help you get started:
Ensure your audio is top-notch – Sound is the most important to your videos. Invest in the best quality lapel microphone you can. If the video is grainy, it isn't the end of the world if you can still hear the narration clearly.
Practice your introduction – Nail down the opening for your videos – one that you can repeat each time. Answer: Who am I? Where am I? And why am I here? It may seem repetitive, but repetition and consistency are memorable and builds your brand.
Set the scene – Be sure to include your location – your community. This provides context for the rest of the video.
Start with a smile – It is always good to start a recording wearing a smile. You are more likely to keep it throughout your segment, ensuring a better connection with your audience.
Encourage people to like and share your videos – It is up to you to include this in your intro or conclusion, but don't forget to encourage them to do it!
Schedule your video recordings – Enter them into your calendar as a way to commit their creation and broadcast.
Conclusion:

Videos make complex ideas simple. For this reason alone, you should be employing video, livestreamed or pre-recorded, as part of your sales and marketing campaigns. They are the best way to connect with your audience, either on an individual or broader scale. We guarantee that if you commit to creating and sharing clear, consistent videos, you will broaden your audience, cultivate community, and elevate your brand.

—

We thank Dave Cooper for participating in the September Town Hall. Please subscribe to his YouTube channel and follow him on LinkedIn. We hope the tips he shared were helpful, and you are now inspired to create some innovative, engaging videos to market your homes and communities. If you missed the Town Hall, you can watch the recap here.

—

Mark your calendar and register today for our next Town Hall on October 5th. Keep the conversation going all month long in our Builder Town Hall Facebook Group, open to anyone in the homebuilding industry.

Tags: Home Builder Marketing, Livestreaming, Sales Vidoes, Social Media, Video Marketing, YouTube


Categorised in: Builder Town Hall, Content Marketing, Video Marketing