FANtastic Marketing Example—GoDaddy
July 30, 2020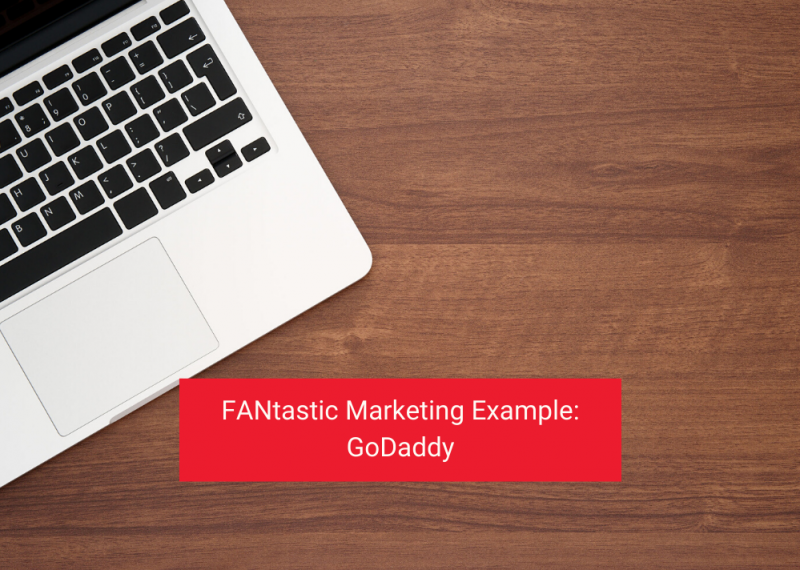 You probably remember the GoDaddy marketing campaign of years' past. You know the ones: They featured attractive women including Natalia Velez, Rachelle Wood, and Michelle Hayden in skimpy outfits parading around the GoDaddy logo. It doesn't take a marketing genius to figure out that while this campaign may have been designed to attract many men—it was certainly a turn off for women. And it actually backfired, turning away many men as well. After all—what business could possibly consider themselves "the real deal" when their domain provider was GoDaddy during that marketing period?
Zero. GoDaddy easily limited its customer base with these campaign efforts and was truly a cautionary tale for business marketing. After all, those commercials haven't aired in years—but they're still seared into my memory. Probably forever. Yours too, I'd imagine.
But let's fast forward. At the end of 2012, the company brought on a new CEO who had a different vision for the company. This vision included a complete marketing revamp—and it is truly an example of exactly how FANtastic marketing can be. GoDaddy ditched the ads with scantily clad women and took its marketing plan in a more inspirational direction which focuses on actual GoDaddy users.
Consider their Made In America campaign, School of Hustle, or Icons of the Tribe. Each of these ad groups feature real GoDaddy users in various lines of small business and are designed to inspire business owners of all sexes, cultures, races, and creeds. Needless to say—this is a big change. Not only do the ads feature entrepreneurs trying to make a name for themselves with GoDaddy, they also talk about the struggles of starting and managing a company. They feel incredibly authentic—a sentiment that was painfully absent from their marketing campaigns of the past.
Here's another cool fact: Along with the marketing strategy change, the company has hired many more female engineers in an effort to further inspire their female target demographic. In other words, their new marketing direction is a total 180—and that is a FANtastic thing to see!
What do you think about GoDaddy's marketing change? Would you give GoDaddy a chance now that their ads lean more toward inspiring?
Categorised in: FANtastic Marketing Tips, FANtastic Selling, FANtastic Selling Tips