April 19, 2022
The Art of Creating Core Memories – April BTH Recap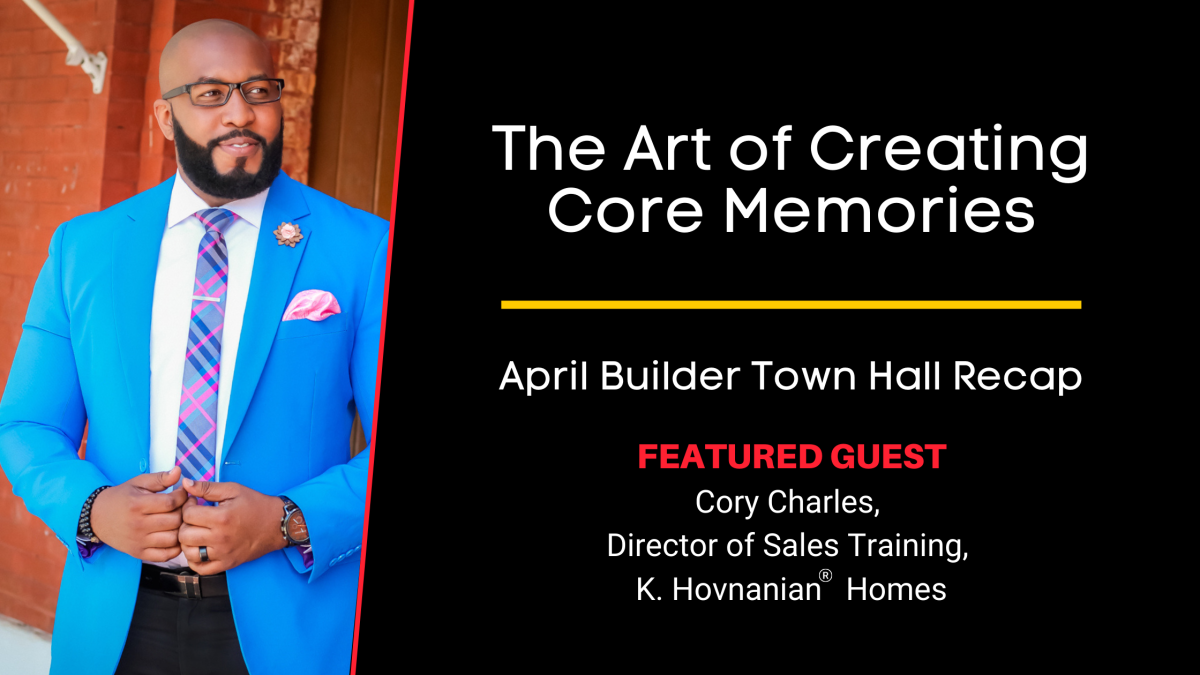 In our most recent Builder Town Hall, we had the pleasure of sitting down with Director of Sales Training for K.Hovanian® Homes, Cory Charles to discuss how to achieve and maintain excellence in the home sales and marketing industry. 
Cory—40 Under 40 recipient and speaker at the most recent International Builder Show—has been enamored with the home building industry since his childhood when his parents purchased their first home. This core memory has inspired Cory to go above and beyond in every aspect of his life. 
It's core memories like these that breed success and joy in our field. For this reason, Cory urges us to explore our mission as sales individuals to foster lasting memories for each customer we encounter. 
Sell Experience Not Product
Buying a home is a new and exciting adventure that is unique to each individual homeowner. As a sales representative, it is your duty to make this transaction more than a sale. 
You must strive to bring joy to families and guide them through the journey to an era of new beginnings, new possibilities, and new memories. 
Your success—and the success of the industry—is closely intertwined with your ability to help improve your customers' lives. When you facilitate a positive experience in the home building and buying process, you help inspire a future generation of potential industry experts. 
Make Lemons Out of Lemonade
It's inevitable. Disaster will strike. Whether that be a three-year-old tumbling into a pool, your zipper busting open on your dress, or an alligator greeting you at the front gate of the property that you're showing, something is always bound to happen. 
You will certainly encounter an abundance of memorable moments—both good and bad—but the mark of a quality salesperson is the way they react to these moments. 
When your end goal is not simply to bump up your sales numbers, but rather to create a core memory for your customers, it's easy to approach these situations with a positive mindset. With this newfound outlook, you will be able to reframe the so-called disaster into an exciting story that will be shared and cherished for years to come. 
Remember: We're All Human
At the end of the day, the home building industry is not about selling homes— it's about changing people's lives. And people are complex beings filled with emotions, experiences, and histories that we will never fully understand. It's for that very reason that you are bound to encounter difficult customers. 

When you find yourself in a frustrating situation, it's essential to remember your task as a core memory maker. Meet your customer where they're at and strive to make their experience as pleasant and memorable as possible.

Navigating the world of sales is no easy feat. However, when you forge ahead with an intentional purpose, the journey becomes much more achievable. 

We look forward to seeing you at our next Builder Town Hall!  Mark your calendar and register today for our session on May 6. We will discuss MarTech and dive deeper into the world of marketing technology to show you how to use it to take on innovative feats. 

In the meantime, be sure to join our Builder Town Hall Facebook Group and keep the conversation going! 

Tags: Marketing for Home Builders, New Home Sales, Personal Development, Sales Leaders


Categorised in: Builder Town Hall, Career Advice, Home Builder Marketing & Sales