June 18, 2022
Meredith's Metrics: Cautious Consumers Cool New Home Market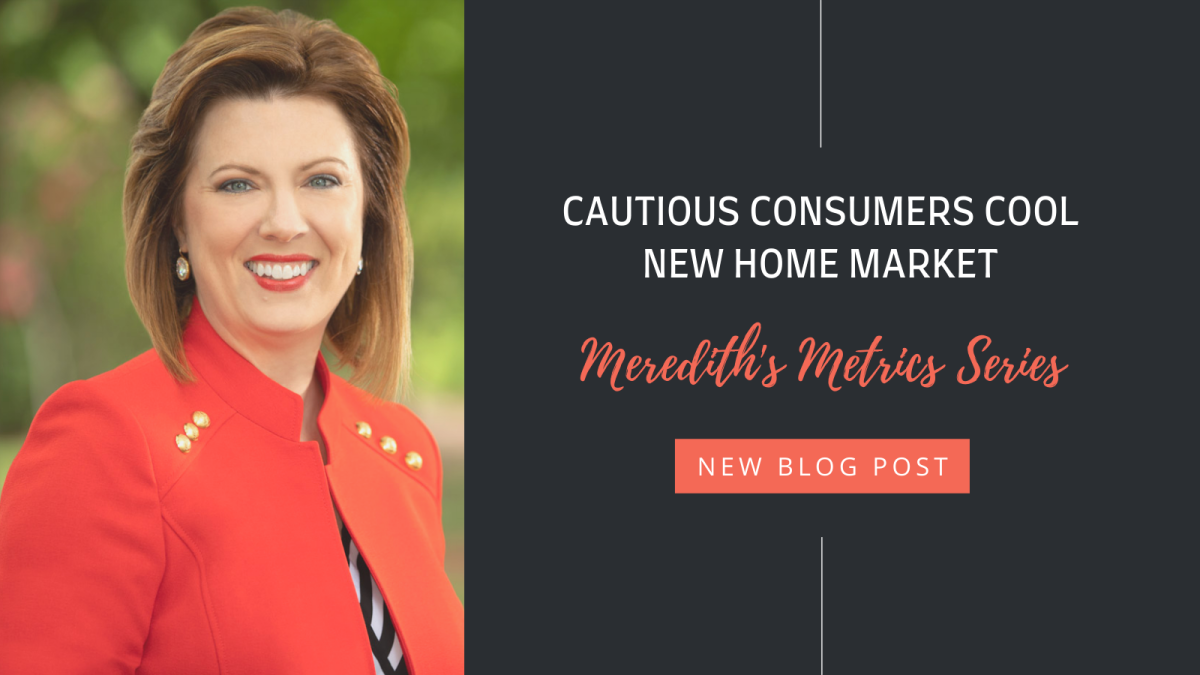 Welcome back to Meredith's Metrics: the segment where we talk digital marketing numbers and what to make of them! We will take a look at the analytics for this month from an extensive collection of 70-100 builder websites that we monitor and manage here at Meredith Communications. These discussions are invaluable in understanding exactly where your company falls. Let's dive in!
Let's Talk Numbers
Remember, these numbers are not meant to scare or excite you, rather, they are a tool you can use to understand how you are performing in comparison to the industry benchmark.
As we look at the month of May, there is a continuation of the market cool down that we experienced in April. Total website traffic from April to May is down 15%-20%. Additionally, there was a 20% decline in goal conversions — in other words, website visitors who filled out a form, participated in a chat, clicked and called a phone number, or gave you the information in any way.
So What Does This Mean?
Though this industry decline might cause some apprehension and fear moving forward, when we took a look at the broader picture, we were able to find a bit of reassurance that we are still headed in the right direction.
After an insightful conversation with one of our builder owners, we looked to the past. We pulled up analytics from May 2019 — the last year that could be considered "normal" before the craziness of the pandemic. Though the numbers from May 2022 are in decline, they still read higher than the numbers from May 2019. While we are currently experiencing a cool down in the market, we are still seeing record-breaking numbers in terms of website traffic.
Think With Google
In addition to our typical numbers talk, we'd also like to discuss a very interesting article from Think With Google.

According to the article, Google has accumulated data on consumer searches to conclude that 70% of consumers are concerned about the rising cost of items they want or need. There has been an increase in searches for affordable essentials including "cheap food near me," "affordable plane tickets," "party finger foods on a budget," and many others in the same vein.

It is easy to use this boom in Google searches for affordable essentials as an excuse for lack of sales. However, that is not the case. Our job is to market and sell in whatever market economy we are presented with. We have to make the most of it.

Rather than using this trend as an excuse, it's essential that we use it as a benchmark to understand where our consumers are coming from psychologically.

We look forward to seeing you at our next Builder Town Hall! As a reminder, we will not be meeting in July, but don't forget to mark your calendar and register today for our session on August 5. In the meantime, be sure to join our Builder Town Hall Facebook Group and keep the conversation going!

Tags: Digtal Marketing, Google Analytics, home builder websites, Think With Google


Categorised in: Analytics, Builder Town Hall, Digital Marketing, Home Builder Marketing & Sales, Home Builder Websites, Meredith's Metrics