October 19, 2021
Meredith Communications Launches New Website for Callio Properties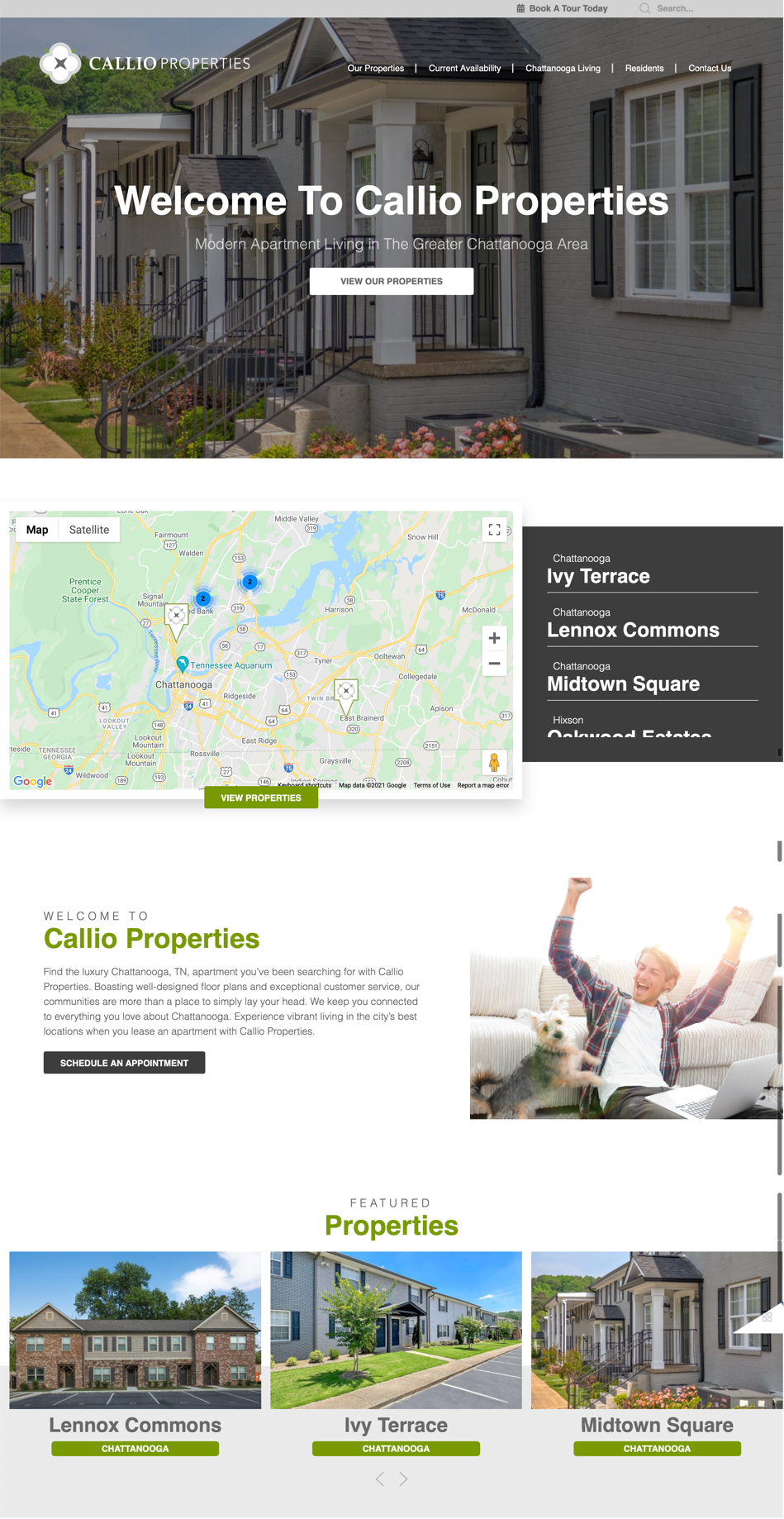 Meredith Communications has just launched a beautiful new website for Chattanooga, TN's premier luxury apartment leasing and management company, Callio Properties.  A division of Pratt Home Builders, Callio Properties was seeking to emulate the website refresh recently completed by their parent company. Meredith Communications had created an engaging, intuitive website for Pratt and Callio Properties was seeking the same.
Website Look & Feel
Callio Properties prides itself on its well-appointed rental properties in thoughtfully-designed apartment communities throughout the region.  From their well-designed floorplans to their exceptional customer service, leasing from Callio is a dream. It was essential to reflect this on their website. The custom-designed site needed to be eye-catching, easy to navigate, and complement the Callio brand. It had to reference or allude to the vibrant Chattanooga lifestyle available to you if you choose to lease a Callio property.
Home Page
The navigation or main menu bar runs along the top of the home page linking to the site's other pages – Our properties, Current Availability, Chattanooga Living, Residents, and Contact Us – making for an easy, intuitive framework. The banner images showcase the clean, modern lines of Callio apartments – from their inviting exteriors to their contemporary interiors – immediately capturing the user's attention.  Transposed over the images, bold text welcomes you to enjoy modern apartment living in the Greater Chattanooga area and, in the center, a push-button labeled View our Properties takes you immediately to Our Properties page featuring an image grid of the six Callio communities (Ivy Terrace, Lennox Commons, Midtown Square, Oakwood Estates, The Stovall and Vandergriff Village). Read about each community, view additional details and schedule an appointment from here.
Beneath the banner images is a map of the region, highlighting the locations of all the Callio communities. At the same time, a dynamic, hyper-linked sidebar lists all six communities on the right. Selecting any of them will take you to the chosen community page, where you'll find a community overview, bulleted list of amenities, location details, and list of floor plans with pricing and availability info.
Below the map, a clean, brief copy welcomes you to the Callio Properties site providing a short description and a push-button encourages you to make an appointment. Then, once again, imagery dominates – a carousel of Featured Properties moves across the page. Again, beautiful, dynamic images from the Callio communities entice the user to explore further. They can click on the community image that interests them to be re-directed to the specific community page. Thus, the home page offers two ways to access the communities right off the bat – the scrolling list next to the regional map and this image carousel further down the page.
Under this Featured Properties carousel is a section on Callio Properties' exclusive Smart Rent Program. If you enroll, you can earn $350 a month towards the purchase of a Pratt Home. A Learn More button takes you to the Pratt Home website page with additional program details. This same block promoting the Smart Rent Program appears consistently in the same place on every website page.
Finally, the footer on the home page reinforces the brand with a bold logo, lists the communities again, and displays a smaller map of the Chattanooga area.
Our Properties
On this page, an image grid features photos of each Callio Community, a short description for each, and buttons to schedule an appointment and view additional details (bulleted list of amenities, location details, and list of floor plans with pricing and availability). The user can also visit a photo gallery with many more high-resolution images of Callio homes from the drop-down menu.
Current Availability
This page presents the specific units in each community that are available for rent. For each property, critical information is displayed – a three-dimensional floor plan, availability, number of bedrooms and bathrooms, and square footage. Buttons allow interested browsers to View Details, conduct a Virtual Tour, and/or Apply Today.  When choosing to view details,
Chattanooga Living
On this page, we set out to give the user a better sense of what the Chattanooga area offers. Here you can navigate a collage of images to various lifestyle topics, including dining, hiking, shopping, parks, attractions, and camping.  Clicking on images will take you to an external site on the given subject – from Yelp sections to trail maps, you'll be able to read more on each of the topics celebrating all that Chattanooga has to offer.
Residents
The Residents tab offers essential functionality to those already leasing from Callio. From the menu bar's drop-down, you can enter a payment portal to make your rent payments, submit a maintenance request and enroll in the Smart Rent Program.
Contact Us
Here site visitors can find contact information, office hours or begin a dialogue with Callio by completing a form, adding your message, and submitting your request.
Behind the Scenes
Innovative and modern, the new site was designed to look better and help Callio Properties attract more renters to their communities and secure more leases.  We've incorporated the latest SEO, Google Ad Management, and mobile responsiveness to optimize traffic and deliver ROI results quickly.

We went with our favorite platform, WordPress, for its ease-of-use, mobile responsiveness, extensive plug-in directory, AND because it is a Google favorite as well! But, most importantly, we incorporated a modified version of our proprietary Catalyst WordPress CMS which we customized to meet the needs of this apartment developer and leasing company.

Once completed, we handed it over to Callio, who is now able to maintain the site themselves, entirely in-house, thanks to the flexibility and simplicity of WordPress and the CMS, which makes it easy to update, edit, remove and add content, pricing, and availability details (a must in the dynamic world of leasing).

Check it out! www.callioproperties.com!

Tags: Callio Properties, homebuilder websites, Pratt Living, Website Design, Wordpress


Categorised in: Digital Marketing, Home Builder Marketing & Sales, Home Builder Websites, Website Design