July 13, 2021
10 Zoom Tech Tips – How to Run a Flawless Virtual Meeting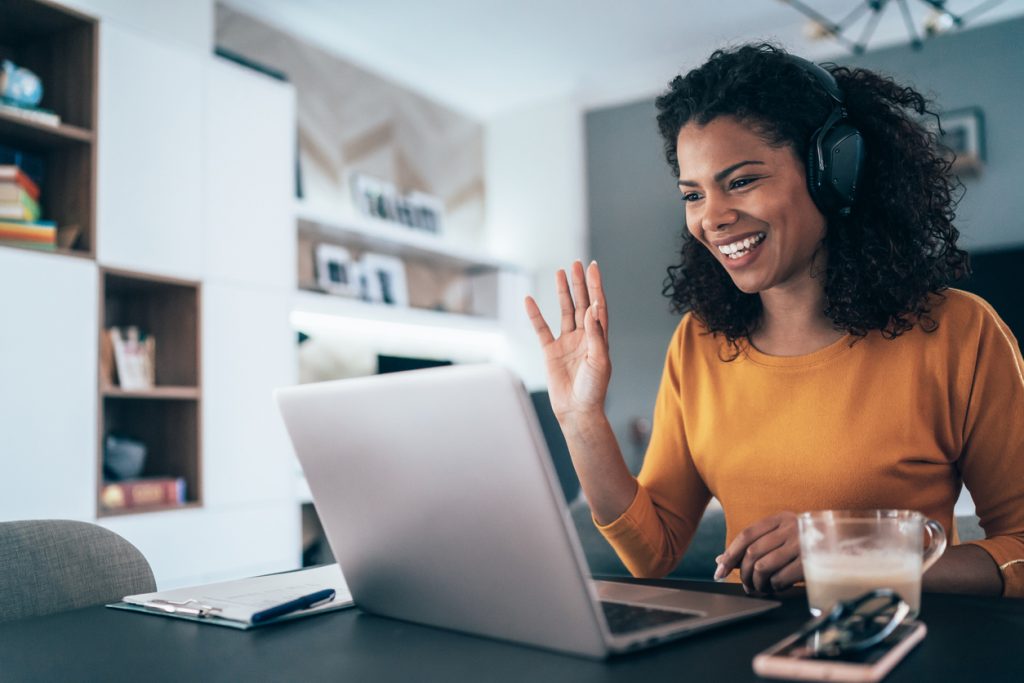 Undoubtedly, one of the positives to come out of the pandemic has been the hastened adoption of digital productivity tools. Many companies may have had ideas and even plans for such rollouts but it was the global crisis that pushed timelines forward.  The impact will be long-lasting – forever changing the way we work.
Specifically, it has been the widespread use of teleconferencing platforms like Zoom (or Teams, Slack, etc.), that has kept critical business and personal relationships on track throughout these challenging months. Using them has become second nature to most of us but it is worth reviewing some key Zoom session etiquette particularly the technical elements. These tips will help ensure you come across in the best possible light and that your meetings run smoothly and efficiently.  They pertain specifically to Zoom but, of course, extend to any digital conferencing platform.
10 Tips for a Successful Zoom Meeting or Webinar:
 Ensure your software is up to date – Both meeting/webinar hosts and attendees need to ensure they've downloaded the latest Zoom software update from the Zoom download center.  The software updates contain important fixes to known technical bugs, enhanced security, and new features. If you are using the Zoom desktop client, Zoom provides an optional pop-up notification of software updates to automatically notify you of updates or you can manually check by logging into the desktop client app and clicking on "Check For Updates". Don't procrastinate updating until the last minute – be sure to do this well ahead of your next Zoom meeting so you leave plenty of time for your computer to update and restart before your live presence is required.
Sign up for the monthly "What's New at Zoom" email – This will ensure you are reminded to download updates and that you are kept abreast of new features and improvements. Most of us receive far too much email, but the monthly email from Zoom is worth a quick scan (see screenshot below). The monthly email is the most efficient way to stay informed on changes to existing meeting controls and new features. There's nothing worse than launching a Zoom meeting and learning "live" in front of your peers that the basic meeting controls have changed and you don't know how to use the newest version. Subscribe from the Zoom blog.
Visit the Zoom blog regularly – In addition, to subscribing to the email, visit the blog for other tech tips that will help ensure your Zoom experiences run smoothly. After all, it doesn't matter how seasoned a presenter you are if you can't share your slides, participants can't enter the session or you encounter other such tech difficulties.  These glitches will detract from your goals and frustrate everyone involved.
Employ new features in your Zoom sessions – Once you've made sure you have the latest updates and have reviewed the zoom blog for interesting tips, USE THEM! Leverage new features in your meetings to help keep them fresh and engaging. In the most recent update, for example, Zoom introduced three cool new features:

Add pronouns easily and control sharing of this information in your profile,
Ability for the host to share screen to breakout rooms, and
Attendees can now request live transcription.  Watch this How-to video explaining how to employ them.

Familiarize yourself with the Zoom security menu – There are three key ways to ensure the integrity of your session:
Turn on your Zoom waiting room- This may be turned on by default but if not, visit your account settings to turn it on. This will add a level of security if security is a concern for you. This provides a virtual waiting room for your participants and empowers you, as host, to view and then permit entry to your meeting or webinar. The waiting room is also a practical place to include meeting information like agenda, rules, etc.  It can also be customized with the event title, logo, etc.
Lock the meeting – Once all invitees have arrived you can easily lock your meeting from the security menu.
Manage participants – You will have full security control over participants through the security menu so if you encounter a belligerent attendee, for example, you can push them back to the virtual waiting room or remove them from the meeting permanently.
Outline communication norms to participants – Let participants know how to get your attention or engage during the meeting or webinar. Should they enter questions in chat? Unmute themselves and begin talking? Raise their hand?  Set down the ground rules at the beginning.
Mute background noise – Oftentimes people forget to use mute and their mics pick up background noise, including keyboard typing, paper rustling, etc., which can interrupt the flow of a presentation or meeting. As the host, you have the power to mute all participants until you are ready to make the meeting interactive again. As a participant, we remind you to mute your microphone anytime you are not actively speaking.
Minimize distractions – In addition to sound, consider your background carefully. A pet, children, or even a fan can be distracting for other participants. If you can't neutralize your background, use a virtual one. Click here for some tips for downloading virtual Zoom backgrounds.  Consider your Zoom setting as part of your brand; it should convey professionalism or, in the case of a zoom background, your personality, design aesthetic, or sense of humor.
Stay Engaged – Avoid multitasking and stay focused on your meeting. When hosting, make sure you can see all active windows at all times and monitor the chats.
Get support –Do not hesitate to reach out to them should you encounter a difficulty you can't solve. Visit Zoom's online Help Center. Here you'll also find contact numbers.
Once you've nailed the technical elements of Zoom, be sure to review and incorporate some of the general presentation advice in Meredith Communications' webinar hosted by LassoCRM: FANtastic Virtual Communication and Presentations: Learn how to truly connect and communicate virtually. A seasoned communicator, digital strategist, and the home building industry's only Certified Virtual Presenter, Meredith Oliver is uniquely qualified to provide important tips on customizing and crafting your message, do's and don'ts of virtual communication, and, most importantly, connecting with your audience.

Tags: certified virtual speaker, Virtual Meetings, virtual presenter, Zoom


Categorised in: FANtastic Selling, Technology, Virtual Events, Virtual Sales, Working From Home