April 1, 2020
Five Apps To Keep Your Remote Team Organized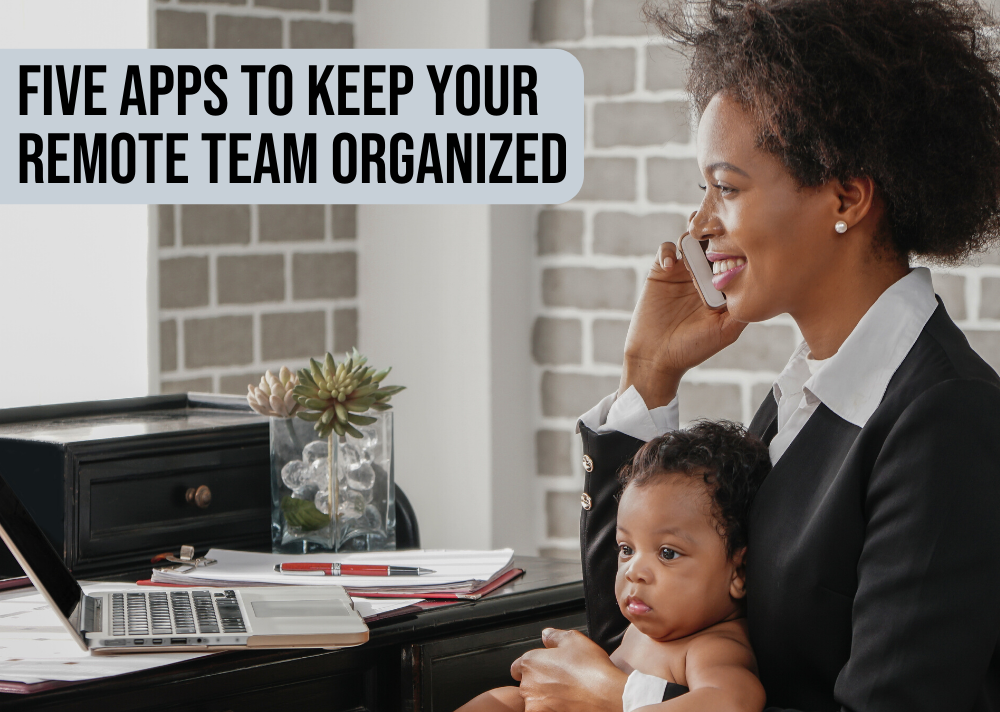 So your team has made the move to working virtually. Thanks a lot, COVID-19! Working remotely from a home office is likely new to many of your team members and on top of some are juggling homeschooling kids while work trying to work. It's total chaos! All kidding aside, you can work smarter not harder with the right tools. Keep reading to discover 5 apps to help your remote team communicate and collaborate.
Working virtually—especially from home—can lead to many distractions and communication issues that don't arise when you have an opportunity to see each other face to face. But the good news is there are plenty of apps that can help keep your FANtastic team organized no matter where they're working. Here are five different options for you.
Slack
The main function of this app is to enhance your internal team communication. When your team uses Slack to message each other (rather than emailing every message and request) it frees up your inbox for your external customer messages so you can be more responsive. Why do you want another communication tool? Because Slack allows you to organize all of your messages into channels. Stop digging through hundreds (okay thousands) of emails trying to find old messages. With Slack, you can easily access older conversations with a keyword search —incredibly helpful when you need to be reminded of a project's direction! And while there are a lot of add-ins that can be combined with Slack, many aren't necessary because the app's main purpose is to keep a team in communication with each other—which is exactly what you need right now! It's fast and easy. Win-win.
ClickUp
Does your team juggle a lot of projects? ClickUp is a project management tool designed to keep your team organized and on top of deadlines—a huge must when everyone is working from home and it's easy to get distracted. We've tried every project management tool out there from Basecamp to Asana to Trello and ClickUp is our favorite by far! It's very robust and incredibly simple all at the same time. Use this track project status, assign tasks, share files, and communicate with clients. Like Slack, you can access ClickUp from your desktop computer, online browser or mobile phone app. The best part about ClickUp, it integrates seamlessly with Slack!
SnagIt
I've been a fan of SnagIt for YEARS. When you work remotely, you don't have the luxury of walking into a colleague's office and pointing at a screen or paperwork to show them what you are referencing. Instead, you are forced to describe with words in an email or Slack message what you need that person to do. And, let's face it, most people are visual learners. It is much harder to comprehend and understand the task with just written words. That's where SnagIt comes into play! SnagIt is a robust screen capture tool that allows you to grab screen captures in either a still image or video. You can then edit that image or video with notes, call-outs, big red arrows! Look here! It's so much easier sometimes to just put a big red arrow and what you need the person to see or understand. Cut down on all of the back and forth misunderstandings and SnagIt instead.
Doodle
It shouldn't take 30 emails to schedule a 30-minute meeting! Stop the scheduling madness! The next time you need to schedule a team meeting, send a Doodle poll instead! Doodle allows you to send team members a clear visual snapshot of your available meeting dates/times (without giving them access to your entire calendar).  Team members then review the available choices and vote for the dates/times that work for their calendar. All of the communication happens within Doodle eliminating thousands of emails back and forth! Doodle integrates with all of the major calendar platforms such as Google cal, Outlook, Office 360 and iCal. It also integrates with Zoom and Slack. Boom!
Folding Screen
Never heard of this app? That's because it isn't an app! Most of you are using Zoom or GoToMeeting several times a day for team and client meetings. Depending on the size and layout of your home, you may not have a dedicated home office space. If you don't want your co-workers seeing piles of dirty laundry or unopened mail in the background of your video, buy one of these folding screens from Amazon. A folding screen gives you a lot of flexibility on where you meet because you can block whatever is in the background. Don't want to spend the money? Check your Zoom meeting settings and select a Virtual Background to appear behind you. No one wants to see your underwear air-drying on the chair behind you – so make sure you either block it with a screen or use a virtual background!

These five apps are sure to help keep remote teams organized in the coming days. Remember that when you're selecting the best apps to encourage connectivity and communication amongst team members, encourage everyone to offer feedback based on what they have had success with in the past. This will help lessen the learning curve and keep everyone engaged! Have an app that has helped your team in the past? Be sure to share it with everyone in the comments.

Tags: apps, team organization, WFH, working from home


Categorised in: Apps, Working From Home