Case Study
Garrette Custom Homes

Multiple product lines showcased
---
Garrette Custom Homes specializes in building new homes "on your land, our land, or land we find together." However, because Garrette is not solely an on-your-lot builder – they also build available homes and pre-sale homes in communities – it was vital that the new website showcase all product lines with simple, clearly labeled navigation.
The website project had two primary goals: 1) Offer multiple navigation menus, graphics, and copy to clarify what Garrette Custom Homes offers and direct visitors to the product that interests them, and 2) Deliver a custom version of our WordPress® CMS called Catalyst™ to allow Garrette marketing staff to manage and update the multiple product lines, in multiple markets on the website with ease.
To accomplish these goals, we used a hybrid menu design, a limited traditional menu across the top of the page, and a hamburger menu for the rest of the navigation. This allows the user to focus on the most important pages in the traditional navigation and allows Garette to build out unlimited pages under the hamburger menu without cluttering the main menu. In addition, we used multiple graphics, call-to-action copy, and maps to showcase the build-on-your-lot options and the communities and available homes for sale.
In addition to website design, development, and hosting, we also provide SEO, PPC, blogging, and OSC training and consulting services for Garrette Custom Homes.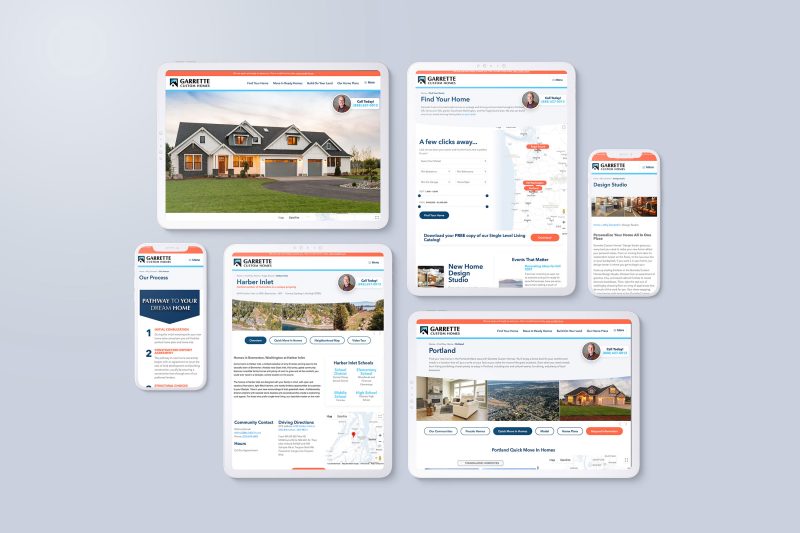 Solutions Delivered
Clear navigation menus
Search refinement options
Custom WordPress CMS
Optimized for Google search
Interactive floor plans
Live Chat and Salesforce integration

Subscribe to our weekly email packed with tips, trends, and tactics to transform your sales and marketing