Why Search Intent Matters For Your Home Building Business
October 3, 2019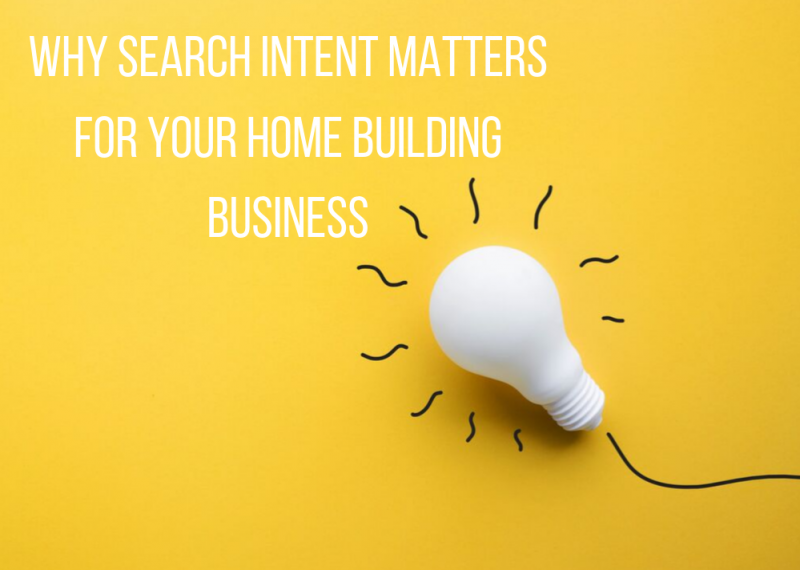 Before we dive too deep into this topic, let's start with an easy-to-understand explanation: Search intent is the motivation that a person has when they enter their search terms into a search engine. They're looking to build a new home or buy a new custom-designed home or they're searching for homes in a specific part of town. Make sense?
Now that you know that, it's important to realize that understanding a customer's search intent can help you customize your marketing strategy and understand what is driving people to your website. WOW! It can also help you determine if people are looking for say a custom home or a move-in ready home. Search intent can also help you understand if people are ready to buy or just simply looking for information. And all of this information can save you a ton of time and advertising dollars if you know how to use it correctly. Ready to dive a little deeper into this little talked about marketing gem?
Taking the time to analyze the search intent of your customers will help you optimize your website pages and drive more traffic to your site. In order to do so, it's important that you first learn about the types of searches, how to uncover search terms, and what terms are common in the homebuilding industry. 
Types of Searches
Searches generally fall under three categories:
Navigational or Go searches are typically paired with keywords that lead to a specific piece of information on your site. Examples of Go searches include things such as "Available Model Homes"  or "Custom Kitchen Designs" paired with your business name. The searchers hope that these terms will lead directly to the appropriate place on your page. They are not looking to wade through your homepage to find their specific content. 
Commercial or Do searches show that the searcher is ready to take action such as visiting a location or making a purchase. In the homebuilding industry, a commercial search may include something such as "Custom Homebuilders Near Me," or "Homebuilder Phone Numbers." These show that the searcher is ready to visit or call a business.  
Informational or Know searches are those that show that the user wants to learn about something and not necessarily buy something. For example, know searches would include words like, "Cost of a Custom Home," or "Options for Custom Kitchens." The searcher is simply looking for information that could eventually lead to a sale.
Uncovering Search Terms
While it may take a little digging, the data you need to discover your customers' search intent is readily available to you through your SEO tools, SEM tools and Google Search Console! In fact, there are a lot of YouTube videos that exist showing you how to do just this. So do a little research and become comfortable then take the time to analyze these terms and phrases to figure out what people are looking for when they reach your site. You may discover that people are searching for a custom home or that they are looking for a move-in ready model home—and if you have one available, you don't want to miss this valuable marketing opportunity! That's because having insight into what your customers are looking for can significantly help your marketing strategy. You can optimize pages for what your customers are looking for and design your sites with their search terms in mind. FANtastic, right? 
Industry Searches

Don't forget to expand your search intent research outside of your own website. Take a look at what search terms customers are using within your industry and specifically with your competitors. This will help you discover new opportunities to drive people to your site!

Have questions? Need more insights? Contact Meredith Communications today. 

digital advertising, Digital Marketing, Meredith Communications, Online Advertising, search intent


Categorised in: Advertising, Content Marketing, Digital Marketing, Small Business Marketing