#WhatWeDo Wednesday – Lasso CRM Equips New Home Sales Professionals to Turn More Leads Into Purchasers
August 15, 2012
 Written by Meredith Oliver
Over the past couple of years I've had the opportunity to get to know Lasso better and it has been a wonderful experience! This is a company who walks their talk; not only do they provide a great product that connects new home sales people to their prospects more efficiently, Lasso as a company works hard to stay connected to their customers through sponsorship, webinars and social networking. I can't think of company doing a better job serving the industry and making us all better for it. It's my pleasure to introduce Lasso to those of you who aren't familiar. Take a look and I know you like what you see!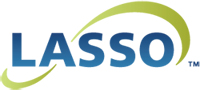 Guest Post by Angela McKay, Marketing Director at Lasso
Each month, Lasso helps hundreds of builders throughout North America sell more homes – thousands of leads are captured, millions of emails are sent, and sales professionals respond faster and nurture leads more efficiently – with CRM software built exclusively for new home sales.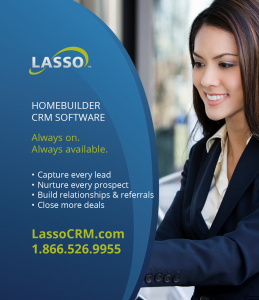 So what exactly is CRM software?

Customer Relationship Management (CRM) software is a means to manage a company's interactions with leads, prospects and customers. It's a database of information.  A CRM helps sales and marketing professionals communicate, follow up and build stronger relationships with prospects and purchasers.

Utilizing CRM software allows a builder to manage leads and prospects more efficiently. No lead should ever get lost or be forgotten with a CRM system.  An effective CRM system will help a homebuilder close more deals, faster, easily and more profitably.

What is Lasso CRM?

Lasso makes it easier for home builders and developers to sell new homes!  First, leads are captured into Lasso, whether it's from your website or other online directories and sources. The prospect information is then stored in Lasso, a sales rep is assigned and a sales process can begin.  Usually it takes several attempts before you make contact with a lead, so keeping track of what was already sent is extremely important.  Throughout the buying process all activities are tracked and monitored in Lasso.  Lasso is easy to use so sales reps can stay on top of their activities, know what selling activities to do next and always have easy access to the prospects' comprehensive profile!  Lasso even sends the sales rep an email whenever a prospect comes back to your website so follow up can be timely and differentiate you from the competition.  For marketing Lasso provides deep insights on campaign effectiveness and best lead sources so marketing budgets can be allocated to where they will be most successful.

"Clients will often say that we are like an extension of their sales and marketing team," said Dave Betcher, Lasso VP Sales, "A huge percentage of our new business comes from referrals, which really says a lot about the software as well as the people who work here.  We truly care about our clients and want to help them achieve success!"

A few quick facts about Lasso:

–          Designed specifically for new home sales.

–          Successfully used on 1,000s of communities & developments throughout North America!

–          Quick & Easy Implementation & Setup (days not weeks!).

–          Cloud-based so it's accessible anywhere on your laptop, tablet or phone.

–          Monthly subscription based on number of users.

Want to learn more?

Do you have any questions about CRM or want to learn more about Lasso?  Contact Dave Betcher, Lasso VP Sales, at 604.214.8552.  You can also connect with Lasso by phone at 1.866.526.995, email sales@lassocrm.com or our social networks …

#WhatWeDo, Creating Wow, CRM, eLead Management, Follow up on eLeads, Lasso, Lasso CRM, Lead Follow Up For Home Builders, lead generation, Meredith Communications, Meredith Oliver


Categorised in: Home Builder Marketing & Sales, Uncategorized, What We Do