Types of Image Licenses and How They Apply to Your Blog
September 12, 2018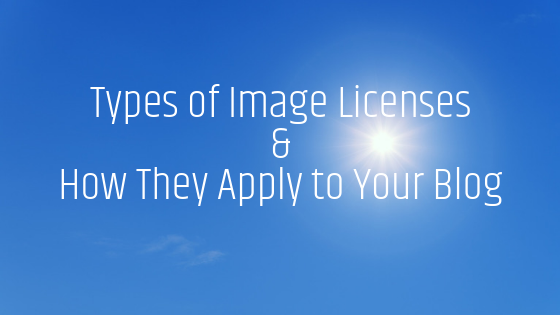 Blogging is a great way to inform the public about your products or services, share opinions, or even to start a conversation about an important social topic. Driving traffic to that blog is essential for its success. To do this, marketers use images to help convey the message or meaning of the blog with each entry.
Most marketing experts will tell you that having images with your posts is no longer an option. Posts with images are read and shared more often than text-only pages. People like the visual stimulation and most pictures invoke an emotion in the reader that captures and keeps their attention. This is exactly what bloggers want to do. However, if you are not creating your own images from scratch, you have to purchase the rights to use the work of someone else.
Understanding Licensing Rights
There are three main types of licensing when you use an image created by someone else. Choosing which type of image licensing you need will be based on the needs of your blog or website. If you are working with a marketing company, your rep will explain to you which type of product is exactly what you need to achieve your marketing goals.
Rights Managed
Rights managed is a very simple type of image licensing. The buyer of the rights is paying to use an image in a specific way. For example, you may purchase the rights to use the picture with one blog post or with a series of posts that are relevant to the image. The cost will be based on how often and in what manner you use the image. If you are going to repeatedly use the image, you may wish to consider restricted rights instead.
Restricted Rights
Restricted rights images are purchased as a contract formed between the owner of the image and the purchaser. In this contract the buyer purchases the rights to use a certain image for a period of time, usually three years. During that period of time, the owner of the image cannot reproduce or resell this image to any other entity. The buyer has exclusive rights to this image for the contract period.
Royalty Free
The name is a little deceptive because the use of these images is not free. These are commonly referred to as stock photos that you can purchase to use on your site. You generally pay for the size of the picture that you want. Some of the stock photos have limits on how many times they can be used. The one drawback of stock photos is the possibility of someone else using the exact same photo you are for a similar page or blog.

There are also images available through special licensing known as Creative Commons. This type of licensing is based on the theory that all creativity flows from the creativity of others and that images can be altered to make something new if the original owner is credited in the work. This type of licensing may apply to your situation but is not often used.

Looking to partner with a marketing agency to help your business drive more traffic, leads, and sales? Contact Meredith Communications today!

blog marketing, Blogging


Categorised in: Blogging, Toolbox Tuesdays