Toolbox Tuesdays: Use Bumper Videos to Boost Your Brand
September 19, 2017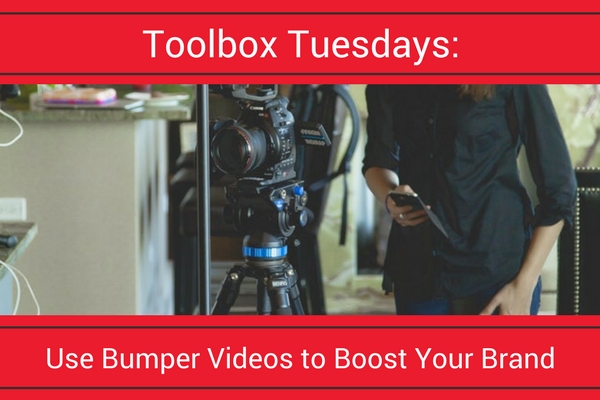 You know the saying "a picture is worth a thousand words?" It's true. So think about how much more a video is worth! In marketing, video is highly valued. Commercials on television and online bring in lots of business. That's why companies spend big money to buy air time during highly viewed events like the Super Bowl. With so much of the American population spending time online, video ads on the websites that your ideal client is likely to visit can be a huge boost in sales. Now, you can use short bumper ads to boost your brand without the investment of creating a full video.
How Bumper Videos Work
First, bumper videos are a feature of Google AdWords, so you'll need to have an AdWords account. These videos are no more than six seconds, but viewers can't skip them – so make the most of the time you have to grab their attention. Because they're a feature of AdWords, you will pay based on the CPM (cost-per-thousand impression) model. Bumper videos are highly effective on mobile devices, so if you're looking to capture the attention of people on the go, bumper videos can be a great way to do it.
How do I Record a Bumper Video?
If you're comfortable making YouTube videos, you may feel confident making your own bumper video. But it's okay if you're not. Companies like Real Reach Marketing have the skills and expertise necessary to create a truly captivating bumper video. Check out a couple samples of their work!
How Do I Create a Bumper Video Ad Campaign?
If you're familiar with AdWords, creating a bumper video campaign is quite similar. Follow these steps to set up and run your bumper video campaign.
1. Sign into AdWords
2. Click Campaigns, then +Campaign and choose Video
3. Give your campaign a name and set subtype to Standard.
4. Under Video ad formats, choose Bumper ads: 6-second video ads
5. Set your budget. FYI – bidding will be set to a maximum CPM
6. Select your networks, location, language, etc.
7. Save and Continue
8. Enter your ad group name and the video. Remember, it must be 6 seconds or less
9. Enter your maximum CPM
10. Choose your targeting
11. Save

It's that simple. For more help creating a powerful bumper video campaign, contact Meredith Communications.

ad campaign, brand, bumper videos, Video Marketing


Categorised in: Toolbox Tuesdays, Video Marketing, What We Do