These 5 Tips Will Show You How To Use Video Content to Build Communities
September 17, 2019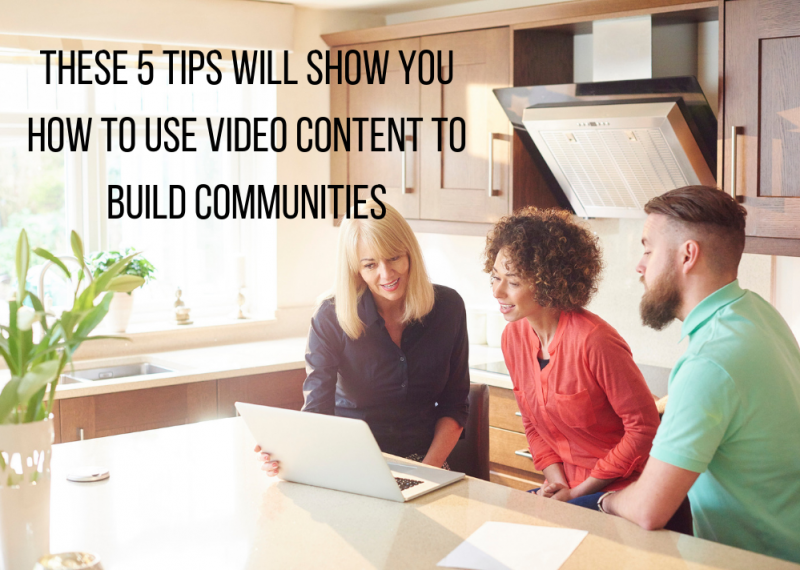 They say a picture is worth a thousand words. Well, a video says even more words than that! That's because videos, similarly to pictures, gives potential customers a visual—and humans are visual creatures. But they often have more pull than photos and can show your potential customers (and existing fans) many different facets of your business in only a few seconds. YouTube reports that 9 billion hours of videos are watched daily. WOW! So in a nutshell, if you're not currently using video content, now is the time to harness its power. Here are five tips to use video content to help you build your community. 
Match your video content to your brand.
When creating video content, don't wander too far away from your brand. For instance, home builder content should focus on the people, processes, goals, and successes of your business. What does this mean? Videos can showcase architects and designers. They can explain the process behind building a brand new custom designed home, feature a neighborhood, or introduce a family that has recently purchased a property. Pay attention to the small details to make sure viewers are receiving accurate information about your brand and your business values. 
Take the time to do it right.  
In today's tech-savvy world, anyone can create a video on their smartphone. That doesn't mean, however, that the video will be of a quality that will draw in viewers. Take the time to make sure your video content is put together well—fast doesn't translate into good. Spend a little money to hire a professional to create your video content, or at least purchase quality equipment to produce the content yourself. You take care when building and selling homes, right? The same level of care should be taken when promoting your services.
Encourage viewers to take action. 
Videos should encourage viewers to do more than sit through a single video. Taking action could be anything from suggesting that viewers click a link for more information or to watch another video, or stop by a model home you have open that weekend! While creating a community of followers is a great goal it should ultimately translate into sales. But be careful! Along with encouraging action, make sure that you are available to talk directly with potential customers and answer messages quickly. Waiting too long is discouraging to customers and can ultimately cause them to move on. If your action requires someone to be available to assist make sure you have everything in place.
Create playlists.
If you establish a YouTube channel to host your video content, there is no better way to create a community than by creating a playlist. A playlist links similar videos together creating a better user experience and keeping your channel organized. Make sure to gear each playlist to a specific audience—maybe young family or empty-nesters— and create content that appeals to that audience.
If you don't have a YouTube channel, you can do something similar on your website. Simply group similar videos together to ensure they are reaching your target audience.  
Share, share, share.  
Building a community begins with sharing information and directing people to the right location. Not everyone goes right to YouTube or your website when looking for information. Use all of your social media channels to link people to your video content. Share your YouTube videos on Facebook and Instagram. Showcase a video in your Snapchat story. Of course, make sure to monitor and respond to comments on all of your channels. 

Have you ever used video to help promote your homebuilding business? What is the best part of using video? The most difficult part? Head over to our Facebook page and comment on this blog post to let us know!

home builder real estate, home builder video, Meredith Oliver, Video Marketing


Categorised in: Content Marketing, Digital Marketing, Video Marketing