There Is No Such Thing As a Well-Rounded Employee
March 29, 2018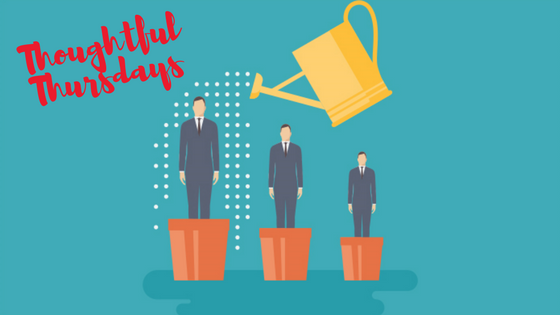 This week our guest blogger is Lauren McGhee the owner/CEO of Lauren McGhee Coaching. Lauren is a Gallup-certified Strengths coach. She discusses how there is no such thing as a well-rounded employee or person. Instead of focusing on always working to be well-rounded in every area of life and business, we should be focusing on leveraging our strengths. Lauren shares great advice whether you run a business with employees or you're in business by yourself. Let's play to and highlight our strengths! Read more below.

---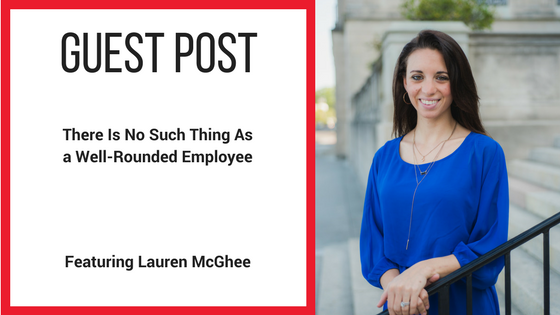 They all meant well. They were just doing their job. All they were trying to do was just set me up for success. My high school teachers, that is.
They told me, "Lauren, to get into a good college and to have a successful career, you have to be well rounded." What does that even mean? They quickly informed me of all the requirements of becoming a well-rounded student: make really good grades in all of your classes, get involved in as many clubs as possible, position yourself as a leader, play at least one sport (even if you're hopelessly non-athletic), oh and it would probably be a good idea to be artsy, too, so learn how to paint or draw or something like that.
I promptly adopted this well-rounded ideology. I graduated as 5th out of my class of 230. I was class secretary, Beta Club Vice President, on the yearbook team and on prom committee. I was voted as Best Role Model for my senior superlative and elected as prom queen. I ran track and was the co-captain of my volleyball team. I was a dancer. I was a singer.
I did everything! I was the poster child for the well-rounded student campaign. I was involved in everything I could be involved in, I was seemingly 'good' at everything, and I was actively working on the things that I was not so good at. I had accomplished all that my high school teachers had told me to.
What no one could see was the insane amount of stress I put on myself to be good at everything and to fix what I wasn't good at. So much stress and lack of sleep that, for a period of about 3 months, I lost feeling in my hands and fingers.  At the age of 15, I physically lost the ability to feel and to touch because I worked so tirelessly at fixing my weaknesses and becoming that well-rounded person I was told I had to be.
How much time have you wasted? How often do you spend your time fixing what you are not good at? How often have you encouraged other people, either purposefully or in a subtle way, to do the same?
Now my story may be an extreme example but how often has this same ideology applied to corporate America? How often are our annual reviews focused on fixing weaknesses rather than focused on investing in what we are already great at? As employers and employees, how many times per day is pure talent being stifled in your workplace in efforts to make everyone fit the mold by just being good at everything?
According to StrengthsFinder psychologist, Dr. Donald Clifton, we all have a list of things we are good at or talents. Thirty-four talents to be exact. These 34 talents are broken up into 4 different categories: Executing, Influencing, Relationship Building, and Strategic Thinking. When you go to the Gallup website and take your Clifton StrengthsFinder assessment, your results provide, in order, the list of your top 5 talents. Here is where I defy well-rounded thinking. The chances of you having the same top 5 results in the same order as someone else is a 1 in 33 million chance. Essentially, if every American took the Strengths assessment, less than 10 people in the entire country would have the exact same results as you.
Here is lesson #1: My school teachers were wrong. There is no such thing as a well-rounded person.
Take my friend, Danielle, for example. As an employee promoted to Vice President at a small brokerage firm, she didn't quite fit the mold. The weekend after being promoted, she read an inordinate amount of books on what it takes to be a good manager and how to keep your employees happy. On Monday, she came to work with an agenda: to treat all 40 of her employees as individuals, to implement an incentive system, to allow their schedules to be flexible as long as they got their work done, and to intentionally have a one-on-one with each individual person. As time passed, Danielle's superiors started to notice that the standard 46% turnover rate in her department sank to less than 1% since Danielle became in charge. Eventually, she was called into a meeting with the CFO and her unconventional methods were questioned. They could not figure out how Danielle had been able to rearrange job roles within the department based on each employee's top talents.
Any ideas what Danielle's number 1 strength is according to the Clifton Strengths test? Individualization. People with individualization in their top strengths tend to be intrigued with the unique qualities of each person and tend to be impatient with generalizations. When given the opportunity to do what she did best every day and not just fit herself or her employees to the corporate mold, her department began to thrive. Danielle refused to concentrate on her employees' weaknesses and instead allowed them to do what they were best at, even if it meant shifting job roles. She did everything but make them well-rounded employees and she was everything but a well-rounded Vice President. Because of Danielle leveraging her strengths, the entire company felt the effects.
Here is lesson #2: The normal way is not always the best way.
When you type 'employee engagement' into Google, the definition that comes up first is as follows: a workplace approach resulting in the right conditions for all members of an organization to give of their best each day. As a Gallup-certified Strengths coach, it is my job to tell you that employee engagement is just a corporate way of saying that you need to invest in yourself and your employees. I believe that the best way to do that is to capitalize on strengths as opposed to fixing weaknesses. The goal of a business should always be to encourage employees to do what they do best every day and not just create a work culture that pressures people to be good at everything possible.
Here is lesson #3: Investing in your employees creates invested employees.
I encourage you today to free yourself and those you work with from fixing your weaknesses and rather spend your time capitalizing on those strengths of yours. Why? Because there is no such thing as a well-rounded person, and therefore, there is no such thing as a well-rounded employee.
About the Author
As the owner/CEO of Lauren McGhee Coaching and a Gallup-certified Strengths coach, Lauren coaches executive-level directors, entrepreneurs, and other business leaders on leveraging their top Strengths for maximum leadership effectiveness. As an employee engagement strategy within organizations, Lauren also leads team development Strengths sessions for corporate staff and team departments. As a professional speaker, Lauren's speaking topics include employee engagement, defying well-rounded thinking, and millennials in the workplace. You can find her on LinkedIn, Twitter, and Instagram.

employees, small business


Categorised in: Career Advice, FANtastic Selling Tips, Guest Blogs, Home Builder Marketing & Sales, Personal Development, Thoughtful Thursdays