May Your Force Be #SpoilerFree
December 18, 2015
Would you like to avoid being the most hated person in the galaxy this weekend? For those of you who aren't super savvy about social media etiquette, I'm here for you! Keep reading so you can:
Avoid becoming the pariah of the Internet hated by friends, family and people you've never even met because your enthusiastic and well-meaning social media post about the new Star Wars movie ruined their experience.
Avoid reading about the plot twists and turns of the hottest movie on the planet before you get to go see it.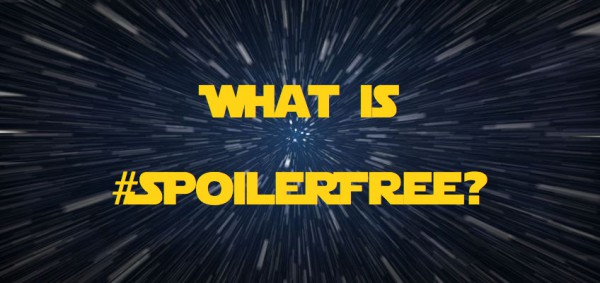 It has happened to all of us – you are innocently scrolling through your Facebook timeline or Twitter feed when you accidentally glance upon a post that divulges too much information, aka a spoiler, about the plot of a popular movie, book, sports game or reality television show grand finale before you get to read/watch it for yourself. A massive spoiler happened to me recently when I innocently clicked on a blog post about the most riveting moments in TV history– only to learn THE major spoiler of the Sons of Anarchy penultimate episode. I was binge watching it and was on Season 3 of 7. Argh!!!

This week an interesting trend has developed around the opening of the galaxy-wide blockbuster, Star Wars: Episode VII, The Force Awakens.  Movie reviewers and savvy social media users are using the hashtag #spoilerfree in their posts. This lets you know they are simply commenting on their overall experience and enjoyment of the movie without revealing any specific plot details.

So if you want to read reviews about the film without learning too much about it, only click on articles and posts that have the hashtag #spoilerfree. And, if you want to avoid being viciously attacked on social media but thousands of people you've never even met, then be sure to only comment on your overall opinion and use the hashtag #spoilerfree.

Hashtags are simply a way for social media users to search and organize their posts. If you click on a hashtag, the social media site will show you every post using that hashtag. Hashtags are quite handy, for example if you are watching a football game and want to read every post about that game by people who are using the team hashtag. In the business world, hashtags are a great way to listen to your customers because you can follow the stream of comments about your brand and learn more about how what your fans are really experiencing when they interact with your product and/or service.

There you have it! Pretty simple really.

And, BTW, you know that movie, The Sixth Sense? Bruce Willis was dead the whole movie. Gasp!

P.S. If you would like to learn more cool stuff like this subscribe to my blog (in the sidebar) or email newsletter. And, if you need a dynamic, fun, relevant speaker for your next event check out MeredithSpeaks.com. Your audience will thank you.

Hashtags, SpoilerFree, Star Wars


Categorised in: Home Builder Marketing & Sales, Social Media, Uncategorized