How To Drive More Foot Traffic Than Ever To Your Model Home
August 6, 2019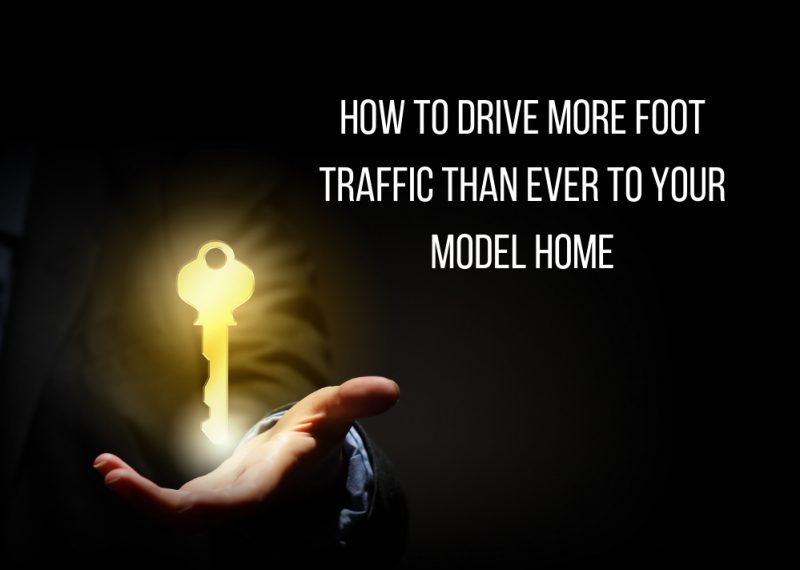 If you're like most builders, your model home is key to your overall selling strategy. But if people don't stop by to see your model home, what do you do? Foot traffic in your model is essential to growing your community, but in today's tech-driven world you can't simply sit around and wait for people to come to you. They have too many options! Instead, use social media channels to spread the word. In fact,  here are 5 social media tips that will help you get more people into your model over the next few weeks.
Customize Posts to Your Social Media Platforms
Most social media platforms are good— yet not one of them is the same! So give each individual channel the extra push it needs to stand out from the others. For example, using Stories on Instagram gives you an opportunity to showcase some of your listings with links to more information on your website. Meanwhile, Snapchat can be a great way to remind people that your model is open for same-day tours. And Facebook is a great place to include lengthier posts including square footage, numbers of bedrooms and bathrooms, and special features. Facebook also is a great place for multiple photos or video walkthrough. Prefer to use YouTube? Keep your videos at a minute or less and focus on a specific feature of the property. 
Showcase More than Just the Model Home
Social media is for more than simply showcasing your model! I'm not saying you need to use it to introduce your sales team (though you could)! Instead, think of what homebuyers are considering when purchasing a home. What would YOU want to know? Consider sharing information about the community, surrounding area, and local school districts. Speak to community amenities, local events, and even offer small shout-outs to businesses you collaborate with. Content should always be a mix of five or six different topics. Keep your audience engaged! 
Use Lots of Images and Videos
You see a long, rambling post and attached to it are images. Chances are you glance through (or skip over) the post and go right for the photos, right? Images are content king, alongside videos. Fill your channels with visuals of your model. what makes it stand out? Showcase exteriors and finishes or provide a digital walkthrough encouraging people to stop by and see more. Use images to capture attention—and use your words to encourage action. "Stop by this weekend!" "Come see us today!" "We're open Saturday from 10-6!" "Call, click, or email us for more information!" 
Tell Authentic Stories
The internet is inundated with fake reviews. But people still trust real people. So if you've recently sold a home, consider asking your buyer if they'd speak to their experience with you on camera. Use your social media to share the stories of your buyers. This will help potential buyers see themselves in one of your homes. Social media is also an excellent place to share stories about your team, your suppliers, and the process of getting a model home ready to show. People enjoy going behind the scenes and hearing about the people who make it all happen!
Interact with Customers On Social Media
Interacting with people on your social media channels is essential to their success. So if you want to drive traffic to your model home, make sure to respond to their comments and messages in a timely fashion! My rule of thumb is within a few minutes—but certainly within the hour! Hire a dedicated social media coordinator is needed to ensure you're on top of social media communication and ensure your replies encourage people to stop by and see your community for themselves. Also, it's important to respond even if the comments are negative. Have a plan of action in case this happens including how to take the conversation off the online space. 

Social media is a wonderful (and free!) tool that you should utilize to drive more foot traffic to your model home. Implement these five steps and you're sure to see more people stopping by your model in the coming days!

foot traffic, Meredith Communications, Meredith Oliver, model home, model homes


Categorised in: Content Marketing, Digital Marketing, Social Media