Home Builder #MarketingMondays: Take The Quiz
October 2, 2017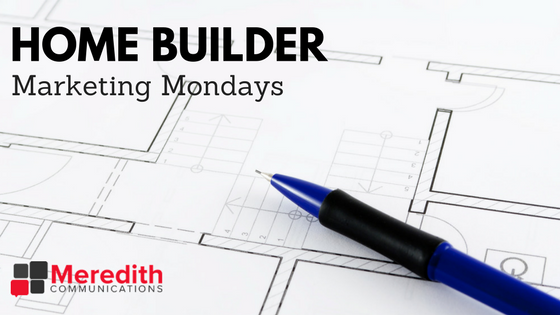 Happy Monday! Every Monday at Meredith Communications is Home Builder #MarketingMonday where we focus on marketing tips specifically for home builders.
This week I am teaching the NAHB Institute of Residential Marketing (IRM) Courses at the Greater Atlanta Home Builders Association. The IRM Courses are designed to teach professionals in the home building industry how to sell homes more effectively. The courses teach students how to:
Conduct market research
Select land
Determine a product mix
Create a proforma, operating statement, and a budget
Create a marketing strategy
Develop a marketing budget
Hire and retain sales staff
Determine absorption rate and sales pace
And so much more!
Test Your Knowledge
Think you are a new home sales and marketing ace? Here's a quick quiz from IRM Course 1 to test your knowledge. Select one answer per question.
What does the operating statement of a home builder show?

Return on sales
Return on investment

What does EBIT stand for?

Earnings Before Interest Taxes
Expected Burden Informed Taxation

What percentage should builders target for a return on sales before interest and taxes (EBIT margin)?
Fixed expenses include:

Indirect construction, fixed marketing, G&A
Lots, direct construction, sales commissions

Psychographic research is the study of:

Crazy psycho people
The science of buying motivations
Why Do You Need to Know This Stuff?
If you work for a builder in sales and/or marketing, understanding the business side of home building will increase your value in the organization and allow you to communicate more effectively with the operations side of the business. If you are an associate member, understanding the financial side of the business is key to communicating with your builder clients. In addition to covering the financial aspects of building, the courses also cover important sales and marketing concepts like how to create a marketing budget, what marketing tactics drive traffic, and how to staff and manage a sales team. If you are a veteran in the industry, the courses will be a great reminder of key points you already know but have forgotten to put into practice. And if you are new to the industry, there is no better way to gain a solid foundation than taking the IRM Courses.
If you are interested in taking the IRM Courses, I will be teaching them again in Raleigh, NC, October 24 & 25. Click here for more info.
How well did you do on the quiz above? Leave me your answers in the comments and I will let you know.
Links to Learn More
National Sales & Marketing Council

National Sales & Marketing Council Facebook Group

Education, Home Builder, IRM, NAHB, NSMC, Sales, Small Business Marketing


Categorised in: Career Advice, Home Builder Marketing & Sales, Marketing Mondays, Personal Development