Toolbox Tuesdays: The Don'ts of Effective PPC
August 22, 2017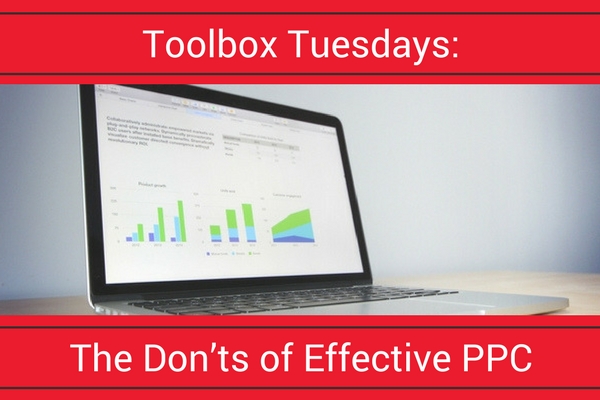 By now you know that a well-run PPC campaign is one of the most cost effective ways to grow your business quickly. We've looked at what you should do to create an effective PPC campaign in last week's #ToolboxTuesday post. However, it's equally as important to know what mistakes and pitfalls to avoid. By avoiding the don'ts of effective PPC, you further increase the success of your ads.
Things You Shouldn't Do in a PPC Campaign
Don't pick keywords based on search volume. This seems a bit counter-intuitive, but the truth is that the higher the search volume, the greater your competition is. That likely means the cost of the keywords are higher and, honestly, who wants to fight off competitors if they don't have to, right?
Don't be generic. If you choose keywords that are too generic, you're likely to pay a lot for your PPC campaign and wind up with a low ROI. Internet users are savvy. They put in specific words based on what they're looking for. You need to meet them with specific keywords to match.
Don't focus on the quantity of people who visit your site. PCC isn't about numbers, it's about the quality of visitors. If you focus on targeting people who are likely to close a sale, the number of visits to your site may be smaller, but your profit will be higher.
Don't send everyone to your homepage. Yes, some people may browse and click through things, but since you're using specific keywords, send people to a specific page of your site where they'll immediately see the content related to those keywords.
Don't "set it and forget it." It can be easy to fall into this pattern, but PPC works best when campaigns are closely monitored and tweaked based on the results.
Don't underestimate your competitors. You're passionate about your business. It can be easy to get caught up in the excitement of bidding on PPC ads and blow your budget. Be realistic about what you can do, instead of getting caught up in a competition you may not be able to win.
Avoiding these pitfalls and common errors with PPC campaigns will help you have a higher ROI and see success sooner. For help creating your PPC campaign, contact Meredith Communications.

ads, PPC, success


Categorised in: Digital Marketing, Search Engine Marketing (SEM), Search Engine Optimization (SEO), Toolbox Tuesdays