Coming Soon: FANtastic Marketing by Meredith Oliver
October 3, 2016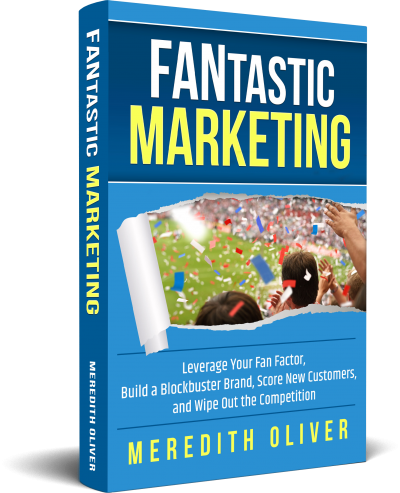 I've been keeping a really big secret. Needless to say that it has been difficult. That's why I'm so excited to share that after months of researching, writing, editing (and a whole lot more) I'm going to be releasing a brand new book titled FANtastic Marketing: Leverage Your Fan Factor, Build a Blockbuster Brand, Score New Customers, and Wipe Out the Competition on October 31. Pre-order it today and save almost half off!
It's one big title, but this book totally lives up to its name. That's because this book is anything but another technical (read: boring!) marketing book. I approach my readers with the same fun, engaging, no geek speak approach that I demonstrate in my talks. FANtastic Marketing will help you decode the mysteries of digital marketing and grow your business by sharing how you can:
Build your brand
Score new customers
Engage current customers
Increase sales
Build greater fan loyalty resulting in more referrals
Maximize your marketing budget
Determine the ROI of your marketing efforts
And MUCH more!
That's not all, of course. We'll delve into how you can identify your ideal fan base (and what makes them so passionate about YOU), how to design and maintain a WOW website, how to harness the power of content marketing, and plenty of other lessons. You also won't want to miss my Tackle Box of Recommended Tools from graphics, presentations, and photo editing to SEO management!
Are you as excited as I am about the upcoming release of FANtastic Marketing on October 31? Remember to pre-order it today and save almost half off! The price will increase shortly after release.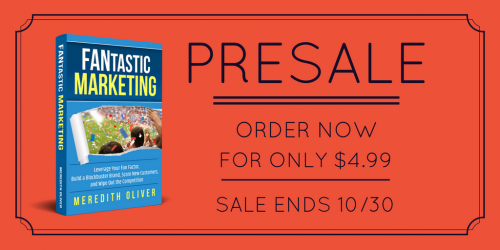 Stay tuned to my blog for weekly #FANtasticFridays where I'll share special lessons and excerpts from my upcoming book. I can't wait for you to read it!

#FanFactor, book release, Creating Wow, FANtastic Marketing, Home Builder Marketing & Sales, Meredith Communications, Meredith Oliver, The Fan Factor


Categorised in: Book Release, FANtastic Marketing Tips, FANtastic Selling Tips, Small Business Marketing, Uncategorized