21st Century Building Expo Launches "Building Champions" Campaign
June 3, 2015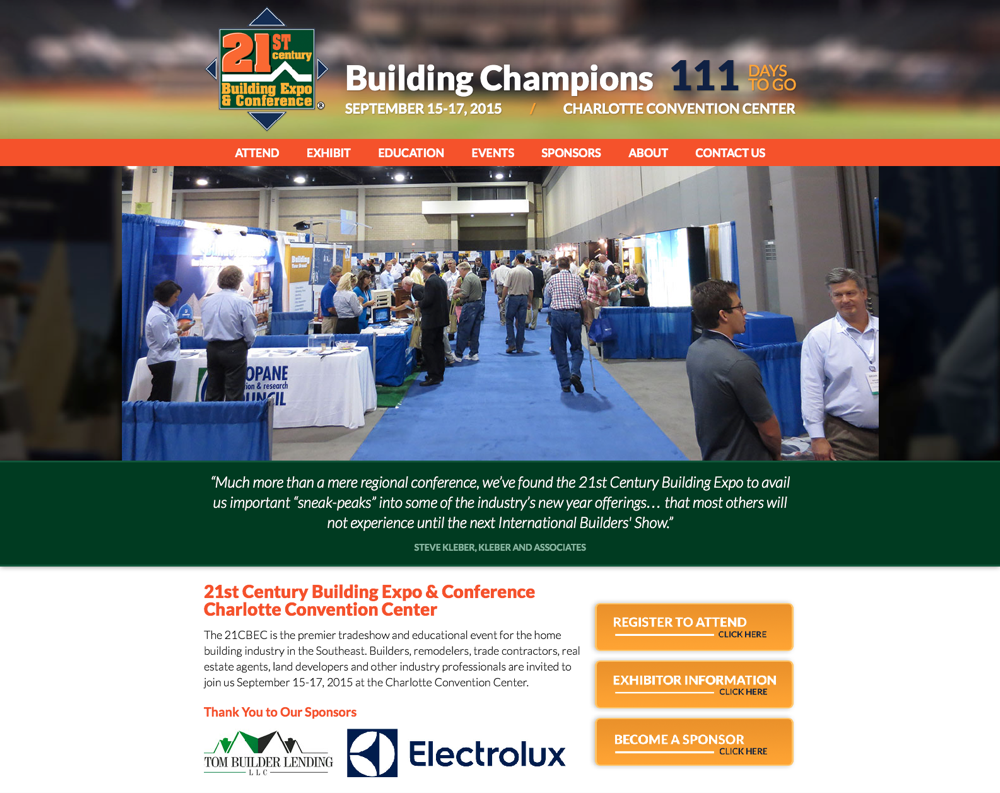 The 21st Century Building Expo and Conference is the premier trade show and educational event for the home building industry in the Southeast. It is hosted by the North Carolina Home Builders Association, which consists of builder and associate member-firms and a network of local builder associations and chapters throughout North Carolina.
This regional conference offers courses and seminars to help home builders, remodelers, trade contractors, real estate agents, and land developers stay up-to-date on the latest trends, techniques and products for the building industry. We were selected to do the marketing for the expo and conference. As part of that effort, we created a website that's responsive to mobile users and features a custom education/event database that will allow attendees to easily search for seminars and events.
Since the 21CBEC campaign theme is "Building Champions," we gave the website a baseball look and feel. Conference attendees can build knowledge, build expertise and build connections to become champions in their local market. Web site visitors will find information about the scheduled events, as well as information for exhibitors on rates for booth space, and sponsor packages. The site also integrates with a third party expo service for online registration.
In addition to the website, we're handling producing onsite collateral materials for the event, and are handling the digital marketing, direct mail and social media marketing for the conference. The website features links to their Twitter and Facebook profiles so attendees can keep up with the latest information about event speakers and industry offerings. Our own Meredith Oliver will be presenting "The Fan Factor" at the 21CBEC event. During her talk, Meredith will share specific strategies and tactics to engage your fans on social media, so you can generate new leads and sales with testimonials and referrals.
"NCHBA is very excited about the campaign that Creating Wow has created for this year's Expo," said Heather Massengill, NCHBA Director of Communications. "We wanted to incorporate new marketing strategies this year, especially digital and social media marketing, and we knew they were the right company for the job!"
If you'd like to reach more customers with a website that's easily accessible on a mobile device, or need help with a social media marketing campaign, contact Creating Wow for a free consultation.
21st Century Building Expo and Conference
Categorised in: Meredith Communications News, Uncategorized, Website Design