2013 Super Sales Rally – Bring It On!
January 4, 2013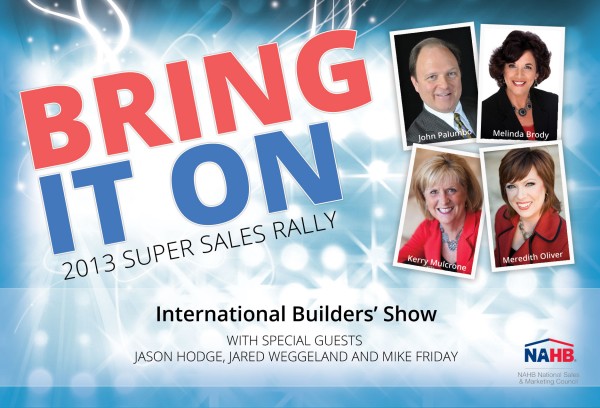 Written by Meredith Oliver
It's almost time for my favorite event of  the year! If you are attending the 2013 International Builders Show, make sure you stop by the Super Sales Rally, January 23, 9:00 – 11:30 am, South Hall S-3.
This year's rally includes four powerhouse featured speakers and three brand new guest speakers. The featured speakers are Meredith Oliver, Kerry Mulcrone, Melinda Brody and John Palumbo. The guest speakers are either active sales managers or builder owners including Jason Hodge of Altura Homes Joplin, Jason Weggeland of Southern Homes and Mike Friday of Woodland Homes.
All of the presentations are fresh and cutting edge. This isn't your grandmother's sales rally! You won't hear the same information presented year after year…you will receive brand new, hands-on from the field, proven tactics to INCREASE your sales and profitability now!
There are many seminars and events at the show. This event is worth the investment of your time so plan now to be with us for the biggest and best sales education event of the year!
Don't miss out on the BIG surprises at the beginning and end of the Rally that everyone will be talking about!!!
Creating Wow, home builder sales, International Builders Show, Meredith Communications, Meredith Oliver, New Home Sales Training, Super Sales Rally


Categorised in: FANtastic Selling Tips, Meredith Communications News, Uncategorized, Upcoming Events