11 Ways to Repurpose Blog Content
September 23, 2015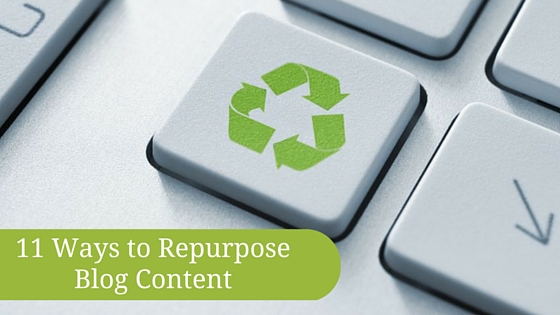 One reason why a blog is such a powerful marketing tool for real estate agents is that you can update, refresh and reuse your blog articles to reach an even wider audience for your services. Here are several ways you can leverage that content for maximum effect:
Showcase an event through social media posts – Have you attended any events and then shared noteworthy takeaways on your blog? Take those nuggets of information and create separate posts for Facebook, Twitter, LinkedIn, etc.
Provide a video tip series – If you've written a list article, such as "Top 10 Ways to Sell Your Home," create a short video that focuses on each individual tip. Upload them to YouTube, create a new blog article based on each video, and share to your social networks. You now have multiple pieces of content instead of just one blog article.
Create a podcast – Review your blog articles to see which ones you could talk about during a podcast. Use a tool like BuzzSumo to determine your most shared articles. These have already proven to be popular, so they should interest an audience on iTunes as well.
Pin articles to Pinterest boards – Get extra exposure for your blog articles by including relevant images in each one and then pin those pictures to a Pinterest board. For example, if you written articles that answer different client questions, each one of those articles could be pinned to an FAQ board.
Use Twitter Cards – If you're not familiar with Twitter Cards, they allow users to add a Call to Action to a tweet with a visually appealing graphic. Twitter offers different types of cards, but for a blog post, you'll want to use a Summary Card with Large Image.
Design an infographic – Repurposing a blog article into an eye-catching infographic is a great way to convey information to your audience. Plus, infographics typically get shared often on social media, especially Pinterest.
Tell customer stories – Highlighting how you've helped your clients is a great way to attract new clients. If you've written any blog articles that contain testimonials (with your client's permission of course), you can create testimonials graphics that can be shared among your different social networking accounts.
Create a presentation for SlideShare – Turn your blog article into a visually interesting presentation and then upload it to SlideShare. To get more bang for your buck, write a new article and embed the presentation into your blog. If you need help creating a presentation HaikuDeck will save you a lot of time, and enable you to create stunning slideshows.
Schedule a Webinar – Turn a blog post into a free, educational webinar that features you on camera, like a Google Hangout, or features your latest PowerPoint presentation.
Make a roundup post – Create a new blog post that highlights previous articles your readers may have missed. Write short snippets around each post and then link to a select group of your top posts.
Create an online course – If you've been writing a real estate blog for very long, you may be amazed at the massive amount of content you've compiled. You can compile that content into an online course and either give it away for free, or sell it – creating another income stream for your real estate business!
Have you come up with any other ways to repurpose your blog content? If so, please share them in the comments below.

Blogging, content marketing, Infographic, Pinterest, Podcast, Slideshare, Social Media, Twitter, Webinar


Categorised in: Blogging, Content Marketing, Home Builder Marketing & Sales, Social Media, Uncategorized