Builder Blab – Connect, Learn & Profit
March 12, 2016
Brand New Educational Series by Meredith Oliver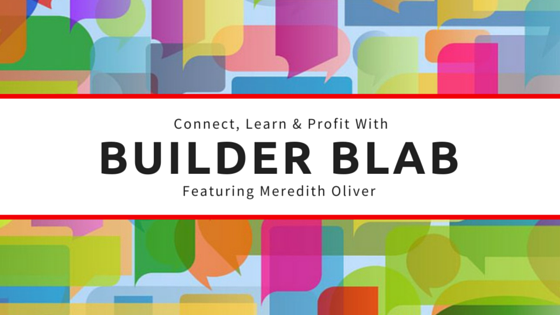 Do you want to stay current on new home sales and marketing trends? Need new ideas to increase your traffic, leads and sales. Want to connect with a community of other new home sales and marketing professionals?
Join us once a month for Meredith Oliver's brand new educational series, Builder Blab. FREE to attend and no registration is required.
Just show up and blab! Click Here for the topic, date/time and details on the upcoming Builder Blab.
What is Blab?
 
Blab is a conversation platform. You can participate on your desktop computer (must use Chrome or Firefox) or via the app on your smartphone/tablet. Blab allows you to watch, join and interact with live conversations about topics that matter to you. New to Blab? Here are some quick tips:
You can participate either on your desktop or via the Blab app on your iOS smartphone/tablet.
You can simply watch the conversation and learn from the presenter and other participants, OR you can participate in the conversation!
To participate in the conversation you simply type comments/question in the chat box. For you bold blabbers out there, you can call into the Blab and appear live on the screen using your web cam (Blab supports up to 3 callers at a time plus the host).
If you want to comment or call-in, you will need to sign into Blab with your Twitter account. Before the Blab, go ahead and sign into Twitter with the same browser you will use to watch the Blab.
To submit a question in the chat, simply type /Q before your question to add it to the queue.
Each blab is recorded so if you can't attend live it will be available to replay at your convenience.
For more information on the Blab platform and details on how to use it check out this awesome tutorial.
Questions? Want to participate but not sure how? Email us! We'll walk you through it.

Builder Blab, Education, Home Builders, Sales, Small Business Marketing, Training


Categorised in: Builder Blab, Uncategorized